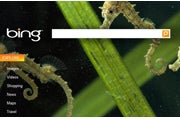 The president of Microsoft's online services division, Qi Lu, used the Web 2.0 Summit as the forum to confirm rumored deals it has made with social networking sites Facebook and Twitter to deliver real-time search results through the Bing search engine.
At first blush it seems like a bit of a coup that Bing has apparently scooped Google to ink these deals first. But, based on what is known at this time the deals don't provide any exclusivity or preclude Google from reaching similar agreements as well. It may simply be a matter of time before Google makes a similar announcement.
Microsoft has a stake in Facebook, and there were rumors swirling earlier this year that Google was considering buying Twitter. Bing launched a Twitter search integration of sorts back in the summer, but as of a couple weeks ago both Microsoft and Google were still aggressively pursuing some sort of real-time search collaboration with these social networking giants.
Yahoo, by virtue of its partnership with Bing, should benefit from the social networking alliances as well. Yahoo is essentially conceding indexing the Web and providing the backend search engine capabilities to Bing, and focusing on ads and other front-end Web portal type projects. Since Yahoo relies on the Bing search engine Yahoo searches should include any real-time search results from Facebook and Twitter.
In the race to integrate the world on the Web and index everything that happens in real-time, its also important to remember that not everything is meant for public consumption or search engine indexing. Responding to complaints of transcribed voicemail messages appearing in search results, Google has made some changes to ensure that the text of transcribed voicemails will not be indexed.
When it comes to breaking news, Facebook and Twitter status updates can provide a tremendous source of firsthand, real-time information. Looking back on the turmoil in Iran following the election results and allegations of voter fraud, even network news agencies were looking to Twitter as the primary source of news and images related to emerging events.
Of course, the vast majority of tweets and Facebook status updates are pointless nonsense. Breaking political or sports news is one thing, but do we really need real-time indexing of what restaurant my cousin Jason is eating lunch at today, or whether or not my friend Joe is bored during a client presentation?
There are potential privacy concerns. Twitter tweets are public by default. If you tweet it, anyone can search it and read it. Facebook on the other hand is private by default. Basically, only the circle of friends that are connected with you can read your Facebook status updates. Facebook made some changes recently to be more Twitter-like and provide public indexing of status updates, but only if users change the privacy settings to allow the information to be shared.
Real-time search is the current Holy Grail of web search. Bing may be first out of the gate, but its fairly inevitable that Google will provide similar real-time indexing very soon. Now is a good time to start living by the axiom that whatever you type could be read by anyone. Watch what you say about your boss or your spouse (aren't they the same person), lest they discover it during a Bing search and you end up in hot water.
Tony Bradley is an information security and unified communications expert with more than a decade of enterprise IT experience. He tweets as @PCSecurityNews and provides tips, advice and reviews on information security and unified communications technologies on his site at tonybradley.com.