I should have seen this coming. I blogged this morning from the Web 2.0 conference that Microsoft had landed deals with Twitter and Facebook to include content from those two sites in search results. Not to be outdone, Google's VP of search products and user experience Marissa Mayer blogged on the Google site that her company, too, had finalized a similar deal with Twitter.
Here's a short taste of Mayer's blog, which posted at 2:09 PM today (Microsoft's Twitter announcement came at 11:30 AM):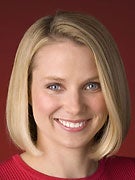 We believe that our search results and user experience will greatly benefit from the inclusion of this up-to-the-minute data, and we look forward to having a product that showcases how tweets can make search better in the coming months. That way, the next time you search for something that can be aided by a real-time observation, say, snow conditions at your favorite ski resort, you'll find tweets from other users who are there and sharing the latest and greatest information.
Rumors had circulated earlier this month that Google was in talks with Twitter, but nothing official came from it until today.
The rapid-fire follow-on announcement should give you some idea about how important it is for search engines to include real-time data like tweets and Facebook updates in their search results, and the massive amounts of money involved. Bing is making a very serious run at Google to deliver the best search content and tools available. If Bing begins to demonstrate that it's better and faster, the flow of advertising dollars could begin flowing away from Google and toward Microsoft.
Nobody today is talking about how much money Twitter will get from Microsoft and Google in exchange for the tweet data, but rest assured it is, well, a lot.
Twitter has indeed been a sensation in tech during the last year, but a sensation that seemed to have no way to make real money. Today's deals with the search engines certainly change that picture, and may keep Twitter in business for a long time to come.
Look for future announcements from Twitter ushering in new ways to charge for the use of real-time microblogging content.