You've probably seen the CalorieKing books at the grocery checkout line. The company is famous for its extensive cataloging of the nutritional values of thousands of foods. That's why so many dieters refer to their paperbacks to track the calorie, carbohydrate, protein or other values of the foods they have eaten. Or, you can keep the CalorieKing Nutrition and Exercise Manager ($45, 7-day free trial) up on your desktop to do the job for you.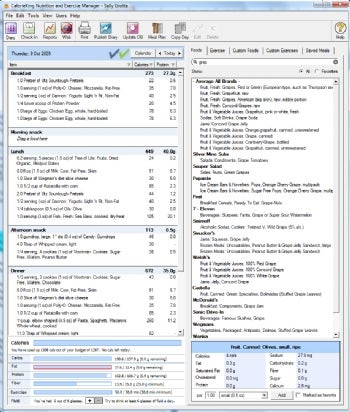 The CalorieKing Nutrition and Exercise Manager is a comprehensive computer-based diet diary. It calculates your daily targets for calories, carbohydrates, fat, protein, fiber and exercise, based on your age, sex, weight, height, how sedentary or active you are, and whether you want to lose, gain, or maintain your weight. You have the option to adjust the food targets, but we liked the suggested balance of 42.9% carbs, 23.4% fat and 33.8% of protein. However, the recommended 30 minutes of daily exercise was less than our usual hour, and we were unable to adjust that.
Whenever you eat or exercise, simply drag and drop from the libraries of food and exercise to the daily tracker on the left. Up pops a window where you input the amount of the food ingested, or the time spent on the exercise. And the Manager does the rest, adding up your food calories, subtracting your exercise calories, and providing ongoing slider indications of how much of your allotment of calories, fat, protein and fiber you've used for the day, and how many minutes of exercise you've done.
Finding foods or exercise in the CalorieKing database of thousands of listings is a simple and quick search. Add any that you find to your Custom lists of Foods and Exercise, with a right mouse menu option. Plus, you can organize your Custom lists, using custom categories. However, we found that added Custom Foods offered only the first measurement option from the database. For instance, in the main database, a chicken egg can be measured per tablespoon, large egg, cup (chopped), ounce or gram. But when we added it to our Custom Foods, the only option saved was the nutritional values for a tablespoon of egg. We had to create our own listing in our Custom Foods, in order to be able to use the values for a large egg. Of course, any food that isn't available in the database can also be added to Custom Foods, as long as you know its nutritional values.
Graphs and analyses of your diary entries are useful, such as the 7-day average for the tracked food values and exercise, which is a better indication of your progress than any single day. Up to five members of the family can use the CalorieKing Nutrition and Exercise Manager, under their own user names. These profiles don't have passwords, though, so think twice about sharing the program with a nosy or prankish family member.
If you are a member of the www.CalorieKing.com Website (for $9/month or $75/year), you can publish your Nutrition and Exercise Manager diary to the online diet diary. Unfortunately, the two don't sync. So, any food or exercise you enter into the Website diary will not show up on your desktop diary.
The Nutrition and Exercise Manager does sync with CalorieKing Diet Log for Palm, so you can maintain your diet diary on the go. However, your Custom Foods and Custom Exercises do not copy from the desktop to the Palm or vice versa, so they have to be regenerated on both devices. In addition, the Palm doesn't hold as large a database of foods as the desktop
If you are serious about tracking your diet and exercise, CalorieKing Nutrition and Exercise Manager is an invaluable tool that we recommend.