Amazon's extending its electronic bookstore onto your desktop. The company announced plans for a Kindle for PC desktop application at Microsoft's Windows 7 launch event Thursday.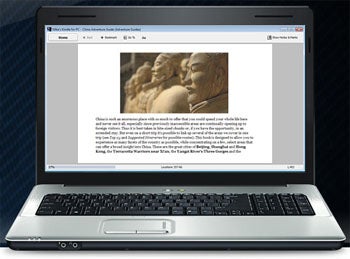 The move, curiously enough, comes just weeks after Microsoft's Steve Ballmer spoke out about the e-reader market. Ballmer said Microsoft itself had no plans to develop its own device and called upon Amazon and other digital book providers to bring their content to the PC platform.
So how will this Kindle for PC app work, and when can you get your hands on it? Here's everything you need to know, broken down into 10 easy points.
1. You won't have to pay for Kindle for PC.
Not for the Kindle for PC app itself, anyway. The program will be made available as a free download.
2. It won't be long till you can get it.
Amazon says the app will launch in November.
3. Kindle for PC will be for Windows.
As of now, Amazon's only discussed plans for a Windows version of the application. It'll run on Windows 7, Windows Vista, and Windows XP.
4. Windows 7 users will get extra features.
Kindle for PC will be optimized for Windows 7's touch technology. Win 7 users will be able to zoom by pinching and, in future releases, be able to turn pages with finger swipes, too.
5. All of the Kindle Store's books will be available.
The same 360,000 titles accessible from Kindle devices now will be available via the PC-based application.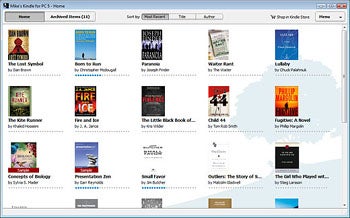 6. You'll be able to pull over previous purchases.
Kindle for PC will allow you to grab books you've already bought for Kindle without having to pay again.
7. You can keep your place when switching from PC to Kindle or iPhone.
Amazon's Whispersync bookmarking program will be built in to the Kindle for PC app. That means you'll be able to save your place and pick back up on the same page, even if you switch midbook to a Kindle device or to the Kindle for iPhone application.
8. Your Kindle notes will also be synchronized.
Any notes or highlights you make on your Kindle will show up on Kindle for PC.
9. Kindle for PC will offer customization options.
The app will let you choose your font size and select how many words appear on each line.
10. You can be among the first to know exactly when Kindle for PC launches.
All you have to do is enter your e-mail address on Amazon's official Kindle for PC page. You'll get an e-mail when the app goes live.
11. There is no number 11.
This list only has 10 items, remember?
JR Raphael writes geek humor at eSarcasm. His 26 Simple Rules of Cell Phone Etiquette will make you laugh, cry, and possibly hurl.