WinZip Pro's newest version offers a slew of featured aimed at Windows 7 integration, but it hasn't abandoned its core functions–nor does it leave users of older OSs out in the cold. WinZip 14 Pro ($50, 30-day free trial) still offers advanced tools, such as importing files directly into zip files from cameras, and backing up important folders.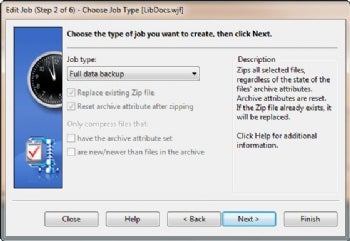 Windows 7 users will be pleased to see that WinZip Standard ($30) and Pro take advantage of some of Windows 7's most useful new features, including integrating with Windows 7 Libraries and Jump Lists. Overall, WinZip now appears as if it were built directly into the operating system.
The Pro version of WinZip offers capabilities beyond those in the standard version. With Pro, you can import images directly from a camera into a zip archive on your PC, and you can also view images in archives without having to extract them first.
WinZip Pro also includes an FTP client, so that you can easily send zip archives via FTP. There's also built-in burning to CD and DVD, as well as a Job wizard that lets you automate repetitive tasks, such as defining a group of files to be archived at specific times. In addition, there are tools that let you use WinZip as a backup program–it will automatically zip and back up certain folders.
Like the standard version, WinZip Pro can harness the capabilities of Windows 7 Libraries. WinZip users can zip files in multiple folder together in a single action, no matter where they are located. This is not possible using WinZip in previous versions of Windows.
In addition, WinZip Pro 14, like the standard version, integrates with Windows 7 Jump Lists. Pin WinZip to the Taskbar, right-click its icon, and you can perform many zip-related tasks, including opening a zip archive and creating a new zip archive, among others.
WinZip 14 Pro will work with previous versions of Windows, not just Windows 7, and adds a new feature for all Windows users: improved security for encrypted files. It will automatically destroy temporary copies of encrypted files created for viewing. It also will work with Intel-based hardware that uses built-in AES encryption. (The Standard version has these capabilities as well.)
These features are added to an already powerful suite of zip archive tools, including the ability to easily zip and mail files, extracting files from .iso images, and overall zip archive management, also available in the standard version.
It also includes the .zipx compression standard introduced in a previous version, which increased greater compression than the standard .zip. That standard will even compress .jpg files, which themselves are already compressed. A PC World review of an earlier version found the .zipx standard can shrink .jpg files by as much as 20 percent (WinZip claims to have reached 25%, but PC World reviewers haven't seen that level of compression). That's about 200MB saved for every gigabyte of photos. Again, this is all available in the standard version as well.
Why buy WinZip Pro if zip support is already built into Windows? If you don't use zip archives frequently, then there's no reason to buy WinZip at all; Windows does simple jobs perfectly well. But if you want better compression ratios and better integration with Windows 7, WinZip 14 is worth the upgrade. The Standard version will give you those features. If you want camera import, backup capabilities, and more, you'll want to spring for the Pro version.