The Web's gotten all worked up this week over a sex-centric iPhone application by Pepsi. The app, called Amp Up Before You Score, provided pickup lines for different categories of women, ranging from "the nerd" to "the foreign exchange student." It then encouraged users to keep track of their conquests on a "brag list" that could be shared across various social networks.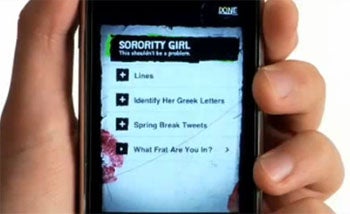 Before you get your keyboard in a bundle, you should know that the app's been pulled: Pepsi took the program offline on Thursday following calls of stereotyping and sexism.
We've seen plenty of sex-oriented applications before. So why did Pepsi get singled out? Who knows — maybe sex and soda just don't mix. One thing's for sure, though: There's no shortage of risqué apps, even in Apple's closely controlled quarters. Here are five that strike me as being far edgier than Pepsi's Amp Up offering.
1. Booty Gong
The objections to Pepsi's app included claims that it objectified women and turned sex into a game. The people lodging these complaints, I have to assume, have never picked up a copy of Men's Health or Cosmo (or watched a single movie made since 1967). They also probably haven't downloaded Booty Gong, an iPhone app designed to let you "ring the gong" and notify your friends after a "successful booty call."
Then again, maybe I'm just being stereotypical.
2. Passion
If turning sex into a game is a crime, Passion is without question a fugitive on the run. The prurient program scores you on — well, scoring. The app uses the iPhone's mic and accelerometer to rate your under-the-covers performance.
Let's just hope you didn't use a pickup line from Amp Up to get the girl, or you'll really be in trouble.
3. Girlfriend Keeper
Next on the list: Girlfriend Keeper, an app designed to help the forgetful man stay on his girlfriend's good side. Simply specify your relationship level and desired contact frequency, and the program will send your gal pal automated messages at the appropriate intervals. You can even input advanced settings such as your anniversary to have the app personalize its impersonal texts.
Meant to be funny? Sure. But so was Pepsi's app, and the Internet's uber-sensitive didn't seem to be chuckling.
4. PMS Buddy
The stereotype-sensitive should certainly steer clear of PMS Buddy, the "PMS reminder" tool that claims to "save relationships, one month at a time." The app helps guys track their girlfriends' cycles so they can be extra "considerate" when their ladies are "feeling a bit irritable."
My, my.
5. Elite Text Game
The final app of the five generates "attraction-building" text messages to help you "connect and chat with the hottie whose number you got." Connecting with hotties leads to dates. And we all know what dates can lead to.
Sheesh, what'll they come up with next — bars where men meet women? Books written specifically to help men get better at getting lucky? Songs encouraging sexual promiscuity?!
Good thing we axed that Pepsi app before any real damage was done.
JR Raphael swims in satire at eSarcasm, his geek humor hideaway. You can keep up with him on Twitter: @jr_raphael.