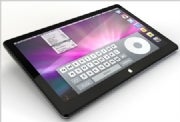 The New York Times' executive editor, Bill Keller, may have inadvertently confirmed the existence of the oft-rumored Apple Tablet in a private speech earlier this month. Keller may have also let slip the name of the new device: Apple Slate. Then again, he may have been speaking hypothetically based on the common assumption that Apple is about to release a tablet device in the next few months. Here's what happened:
The Keller Speech
On October 15 or 16, Keller gave a speech during an "all hands" meeting for the Times' digital staff at TheTimesCenter in New York, according to a post by Harvard's Nieman Journalism Lab. During the speech, Keller made a reference to the Times' strategy for mobile devices. "We need to figure out the right journalistic product to deliver to mobile platforms and devices," Keller said. "I'm hoping we can get the newsroom more actively involved in the challenge of delivering our best journalism in the form of Times Reader, iPhone apps, WAP, or the impending Apple slate, or whatever comes after that."
The entire meeting was supposed to be off the record, but a video of the speech was made available to Nieman, which it posted on Vimeo on October 19. Nieman's interest in the video had nothing to do with Keller's possible hint at the device. Instead, Nieman was interested in the Times' thinking about the future of the newspaper industry. So it took a few days before technology pundits discovered the tablet reference, which was first uncovered by Gawker late Sunday.
Apple slate or Apple Slate?
So did Keller let information about the Apple tablet slip or was he simply making a reference to a product that many believe to be in Apple's pipeline? Earlier this month, The Times was rumored to be working with Apple on the rumored tablet as a part of the device's pumped-up e-reading capabilities. If the e-reader rumor is true, then Keller would almost certainly know about the device, and it's likely he would be constrained on what he could say about the tablet by some sort of secrecy pact between the Times and Apple.
Assuming Keller agreed to keep his mouth shut, why would he have spoken so freely about an Apple slate/Slate to his staff? Maybe he thought it was acceptable since he believed he was speaking off the record, maybe the entire digital staff at the Times has been developing content for Apple's device for months, or maybe Keller doesn't know a thing at all. It should be pointed out that "slate" is a less common, but by no means unused, term for Apple's rumored tablet device.
Regardless of whether he knows anything or not, Keller's comments are a tantalizing tidbit of information while we wait to see if Apple really will show off a tablet device in the near future. What do you think? Did Keller inadvertently confirm the Apple tablet or is he in the dark about Cupertino's plans just like everyone else?
Note: When you purchase something after clicking links in our articles, we may earn a small commission. Read our affiliate link policy for more details.