Call it the legacy of Microsoft's Vista operating system. PC users upgrading from Windows Vista to Windows 7 have run into a variety of hair pulling problems since last Thursday when Windows 7 launched. Complaints range from endless reboots to refusals by Windows to accept Microsoft's assigned product keys.
As of Monday morning, Microsoft had answered about 2600 questions that poured into support forum regarding upgrades. At last count, around 1400 questions remained unanswered.
Unable to Unpack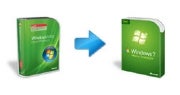 On Microsoft's support forum, users are complaining of receiving "unspecified errors" when unpacking Windows 7 Home Premium from the student download, and about getting the error message "We are unable to create or save new files in the folder in which this application was downloaded."
The problem was traced back to the third-party software distributor who was offering the upgrade download for Windows 7. It has to do with the way the files were downloaded to users' PCs. Microsoft has acknowledged the problem and suggests this work-around.
Endless Reboots
Users began to complain about endless reboots on Friday, posting messages to the Microsoft su
pport forums stating that the Windows 7 upgrade would hang two-thirds of the way through the upgrade. Microsoft says it is investigating user problems regarding "endless reboots," but downplayed them as "isolated issues," according to reports.
Here is a sample complaint from the forums:
"On the last step of the upgrade (transferring files/programs/etc.), my laptop rebooted and came to a screen telling me the upgrade was unsuccessful and my previous [Vista] OS files would now be restored. My laptop is now in what seems to be a loop of restarting and trying to restore the files," wrote one user, JSchneider21.
Did Microsoft know about the reboot problems? In July Microsoft posted a document on its Web site outlining the problem and suggesting steps that users can take to address it.
Product Key Problems
Other angry users are saying that Windows won't accept product keys supplied with Windows 7 upgrade disks. "The product key is not valid. Please retype the product key," Windows 7 tells them.
Meanwhile, many users seem quite dissatisfied with Microsoft's responses to other Win

7 upgrade issues. As of this morning, Microsoft support reps were still replying to users' questions about product keys with a canned response citing "several reasons why a product key might not be accepted."
Essentially, either, "You mistyped it. The product key you typed doesn't match the key assigned to Windows on your computer. Microsoft has identified the product key you entered as counterfeit," or "the product key has already been used on another computer," according to Microsoft.
One person griped: "I Have been on the phone since 4 pm EST and I still don't have a valid product code. Thank you Microsoft! Thank you for wasting my valuable time! Time is money and this had been a flagrant waste of it," wrote thatguy38.
Users helping out other users on the Microsoft support forums are suggesting a common mistake is leading to upgrade product key problems. Forum users suggest product key rejections stem from users mistakenly wiping their system clean and trying to use an upgrade Windows 7 disk for a full installation. It is unclear whether this is indeed the source to user aggravation.
Users have been posting their own, rather convoluted workarounds to the product key conundrum on the Microsoft forum. But wouldn't it be great if Microsoft would give them a simpler answer?