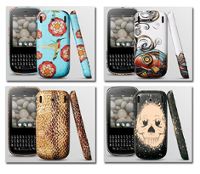 The Palm Pixi, the slimmer sibling of Palm Pre, is set to debut on the Sprint network on November 15. Priced at $100 (after rebates) with a two-year deal, the Pixi is a reworked Pre with a few significant changes, including an exposed (not slide-out) keyboard, a slightly smaller display, no Wi-Fi, and a new Facebook application.
Will holiday shoppers take to the Pixi? Or will Palm's latest phone, like its older sibling, receive a tepid response? The Pre, despite months of prerelease hype and generally positive reviews, hasn't become the iPhone killer than many industry watchers had expected. And at least one leading analyst has predicted that Pre sales will fall this quarter.
The Pixi's price is competitive, no doubt. But the phone is priced to similarly to the more powerful Pre, which may cost even less depending on when or where you buy it. For instance, a recent Amazon promotion cut the Pre's price from $150 to $100, and a Wal-Mart deal slashed the price of the device to a mere $80. Given the choice between an $80 Pre or $100 Pixi, I'd go with the Pre. The Pixi may be smaller and lighter, but we're talking fractions here. The real-world difference is negligible.
It appears the Pixi is targeted at younger users who don't want all of the Pre's features. And the Pixi has more of a social networking bent too. Assuming the Pixi is marketed as the kids' Pre — and given the multiple Pre discounts we've seen lately — will the Pixi fall to $50 before Christmas? I suspect it may, particularly if early holiday sales don't meet Sprint's expectations.
Contact Jeff Bertolucci via Twitter (@jbertolucci) or at jbertolucci.blogspot.com.