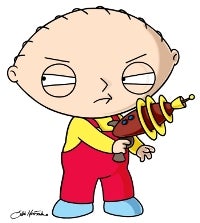 Well that was fast. Microsoft has yanked its sponsorship from an upcoming half-hour special on Fox featuring Family Guy creator Seth MacFarlane, according to Variety. The special was set to air on November 8, and was going under the working title "Family Guy Presents: Seth & Alex's Almost Live Comedy Show." The show, announced earlier this month, was to be commercial free, but would feature Windows 7 marketing messages woven into the fabric of the program.
When it came to time to sign off on the show, however, Microsoft wasn't laughing. Variety reports that Microsoft executives came to view the special's taping on October 16, but got more than they bargained for when MacFarlane and Family Guy co-star Alex Borstein started doing jokes about the deaf, the Holocaust, and incest.
The special's content turned out to be a little too much for Redmond, and the company decided the show was "not a fit with the Windows brand." Despite pulling out of the television special, Microsoft still plans on going forward with a 12-week college tour featuring movie nights hosted by Family Guy characters, online videos, and the chance for college students to try out Windows 7.
The MacFarlane special is the second time this year that Microsoft has backed off from advertising featuring potentially offensive humor. In July, Redmond had to pull a Web-only commercial called O.M.G.I.G.P. — Oh My God! I'm Gonna Puke –starring actor Dean Cain discussing the private browsing feature in Internet Explorer 8. The ad featured a woman who couldn't stop vomiting after discovering pornography on her husband's computer. Microsoft said it pulled O.M.G.I.G.P. after receiving complaints about the ad.
Even though Microsoft has passed on the show, Variety says Fox plans on going forward with the November 8 special in partnership with a new, yet-to-be-named sponsor.