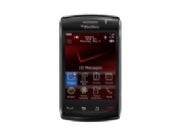 Research In Motion's BlackBerry Storm 2, the long-anticipated follow-up to the original BlackBerry Storm, will arrive on Verizon's network tomorrow. The Storm 2 will go on sale on Wednesday, October 28 for $280 when you sign a two-year service contract with Verizon Wireless. Verizon is offering a $100 mail-in rebate, which knocks the price down to $180, but that rebate comes in the form of a Visa debit card, not an actual check.
With the Storm 2, RIM hopes to fix the mistakes made with the initial model, such as its widely-panned touchscreen. The Storm 2 features a 3.25-inch capacitive touchscreen display (480×360 pixels resolution), which provides electronic feedback instead of the "clickable" screen found on the previous model. The screen on the original BlackBerry Storm was at the centre of many customer complaints, and RIM seems to have listened to feedback and also incorporated multi-touch support on the Storm 2.
Unlike its predecessor, the Storm 2 also features WiFi support (802.11b/g) alongside EV-DO Revision A connectivity and overseas 3G data (via an included SIM card). Bluetooth (2.1) and GPS are also present on the Storm 2.
In terms of multimedia, the Storm 2 features a 3.2 megapixel camera with autofocus, flash, video recording, and image stabilization technology. The Storm 2's camera can also geo-tag photos using the built-in GPS chip.
The BlackBerry Storm 2 will come with 18GB of storage — 2GB built-in and 16GB via the memory card included (microSD/SDHD).
PC World's Ginny Mies reviewed the BlackBerry Storm 2 earlier this month, saying that it "is definitely an upgrade from the first Storm in design and usability." She notes that the keyboard handles better, but it can be tricky to get used to, so she recommends "before you decide to purchase the Storm 2, [to] try it out extensively in a Verizon store."
Walt Mossberg of the Wall Street Journal also noted in his review of the Storm 2 that "the browser is still inferior to Apple's, Google's, and Palm's. And the traditional BlackBerry interface cries out for a major overhaul in a touch device like this, especially when you add a lot of apps."
The BlackBerry Storm 2 comes in the already crowded market of touchscreen based smartphones, where Apple's iPhone is widely seen as the most popular. Verizon is also preparing to unveil the flagship Motorola Droid, running on Google Android OS. Other strong competitors are Palm's Pre smartphone and the Sprint Hero, also running on Android.