Reader Kevin has this question: "Is there a way to have Firefox refresh automatically, without hitting the refresh button? It would be very nice when Woot.com is having a 'Woot off' or when watching an item on eBay."
You know what, Kevin? That would be nice! All you need is a handy Firefox extension called ReloadEvery, which can automatically reload a browser tab at designated intervals.
Once you've installed it and restarted Firefox, just head to Woot (or whatever page you want to auto-refresh), then click the little arrow next to the Refresh button and choose your desired interval: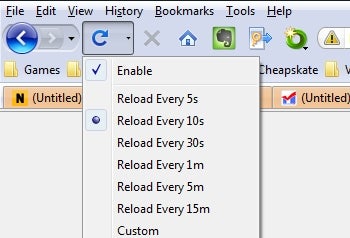 Alternately, you can right-click anywhere on the page and choose the ReloadEvery menu. The extension works on a per-tab basis, meaning you can choose different refresh rates for different sites.
Just be careful not to use it with Web-based e-mail, forms, blog tools, and the like, otherwise you could lose some work in progress.