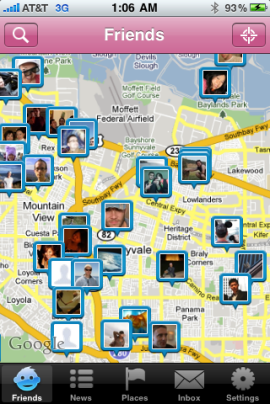 First we had Twitter, the ultimate text-based up-to-the-minute portal for following friends, businesses, and organizations. With a handful of excellent Twitter iPhone apps, we were no longer tethered to the Web and could tweet and read on the go. Then we started moving closer into stalking territory with programs like Google Latitude and apps like Loopt and FourSquare. Now, the Australian iPhone app developers behind GasBag (an app to help find the cheapest gas) have created Stalqer, the ultimate "I'm watching you" app for those who are not content just knowing what you're doing, but where you're doing it.
The Stalqer app, which should be released to the App Store soon, isn't like other location-based mobile social networking programs. Others require your friends to sign up for the service and then willfully allow themselves to be followed. Stalqer culls information from your Facebook friends, via Facebook Connect, and then reveals general locations. Right now, Stalqer is not harvesting data from sources like Facebook wall posts or Twitter, but the company says that will happen eventually.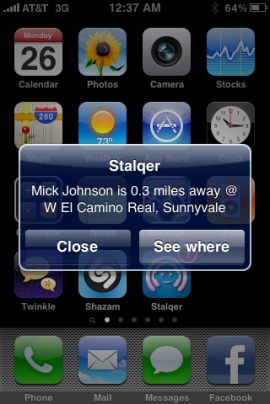 The tricky part of making an app like Stalqer work is that the iPhone does not allow background processes, and therefore cannot update itself every minute to broadcast a trip across town. Stalqer found a way around that. An e-mail account associated with Stalqer pings the app's servers roughly every 15 minutes, giving a detailed if not altogether precise location on the map. It's an interesting work-around to the age-old iPhone app background processes problem, but apparently this one only works when the phone is connected to Wi-Fi.
So what are the privacy safeguards with an app such as this? Stalqer creator Mick Johnson spoke to TechCrunch and said that the app has "very powerful security settings that let you specify whether you want your location broadcasted and you can also indicate specific friends who can see your check-ins." You can also specify whether friends can see detailed street locations rather than just whatever city you're in.
These safeguards, however, deplete the "fun" to be had with an app like Stalqer, so I imagine those interested in dabbling with the world of Peeping Toms won't drop the veil of privacy.
With its unique workaround of background processes, use of the iPhone 3GS's augmented reality (see video above), and almost intrusive manipulation of Facebook, Stalqer brings a lot of innovation to the App Store — but for what purpose? FourSquare, at least, integrates a game into its technology; Stalqer seemingly exists for the sole purpose of, well, stalking. And even though the app does not take data that isn't already readily accessible, there's something unsettling about someone scoping me out even when my phone is off or, even worse, when I don't even know I'm being watched.
Johnson told TechCrunch that Stalqer is primarily aimed at the younger crowd that doesn't really care about privacy, but even still, I wouldn't feel comfortable recommending something rife with so many nefarious uses to anyone of any age.
(To be clear this blog is not to be confused with a review of the app; it is simply commentary on an announcement.)