When Microsoft pulled out of sponsoring a television show by Family Guy creator Seth MacFarlane, a remarkable thing happened to the future of TV. Microsoft's decision to shelter Windows 7 from MacFarlane's off-color humor doesn't just affect this show in particular; it sets back the doomsday countdown to when our media is tightly woven into sponsorships, corrupting the entertainment itself.
I'm springboarding off a TechCrunch article by Paul Carr, in which he argues that "Family Guy Presents: Seth and Alex's Almost Live Comedy Show" is "the end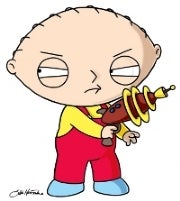 of television, and the world." Carr articulates what we were all thinking when the deal was announced: MacFarlane is selling out, and he's paved the way for other shows to water down their content with in-show shilling. "It is simply not possible to write funny jokes about Windows 7 while simultaneously making Microsoft happy," he writes.
I guess he was right, but Microsoft's change of heart puts the whole thing in perspective. Yes, the animated shorts in the special were "the tamest parts of the show," according to Variety's report on the matter, but when it came to the live-action sequences with MacFarlane and Alex Borstein, who voices Family Guy's Lois, nothing was sacred. The duo touched on deaf people, the Holocaust, feminine hygiene, and incest. At one point they played the part of Latino housekeepers.
In that light, the preview clip we saw of a Windows 7 pitch with Family Guy's Stewie and Brian looks more like a typical celebrity-endorsed commercial. The only differences are that the remainder of the show is Family Guy-related and the advertisements were only for Microsoft. I get the sense that those Windows 7 moments are isolated, because Fox is getting another sponsor for the show. If the special was written around Windows 7, I'd think MacFarlane would have to rewrite the special or scrap it entirely.
The bigger point is that MacFarlane and Fox stuck to their principles. They didn't water down the content, despite several notes of concern from Microsoft. They understood that if a sponsor lays a finger on the entertainment itself, integrity goes out the window, and so do the fans. Whoever sponsors the show now has to be aware of that.
So I'm not worried that a sponsored Family Guy special spells the end of pure entertainment. If anything, Microsoft's departure reiterates the importance of keeping the content honest, no matter who's paying for it.
When you purchase through links in our articles, we may earn a small commission. This doesn't affect our editorial independence.