Verizon will start selling the Motorola Droid, its first Google Android handset, on November 6, the carrier announced on Wednesday. The Motorola Droid will cost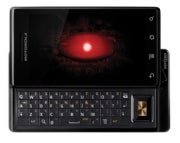 $200 with a two-year contract with Verizon, after a $100 mail-in rebate.
The Motorola Droid sets high hopes for the future of the Google Android OS, and features powerful hardware: 3.7-inch high-resolution capacitive touchscreen display, 5-megapixel camera, and WiFi and Bluetooth, among other features.
But the star function of the Motorola Droid is the newest version of Google Android OS, version 2.0 Éclair. Google announced on Tuesday Android 2.0, which introduces such new features as support for multiple Google accounts, SMS search functionality, and better camera software.
GPS navigation on the Verizon Motorla Droid comes from the new Google Maps app in Android 2.0, which was completely revamped and also includes turn-by-turn directions capabilities for free.
The 2.0 version of Android is already receiving glowing reviews from the likes of PC World's own JR Raphael, especially as the release brings numerous UI enhancements, like double tap zooming in for the browser. Previous lack of such functionality placed the Android browser behind Apple's mobile Safari browser on the iPhone.
Android: Clearly on the Right Track
Powerful devices like the Motorola Droid are set to put Google Android into a leading market position by 2012 as well, according to data released Tuesday by research firm Gartner, which predicts that Android will hold the number two spot after Nokia's Symbian OS with 18 percent of the market in a few years.
The Google Android platform is also quickly becoming popular among application developers. There are around 10,000 apps for the platform in the A
ndroid Market, placing Google in a distant second place behind Apple, which is on track to top 100,000 apps in its App Store.
The problem so far with Google Android was that only a limited number of devices run the OS. Only a handful of devices are available now, among them the Sprint Hero and the T-Mobile myTouch 3G, but anticipation of the Motorola Droid could increase the presence of the OS on the market if successful during this holiday season.
Google's free licensing model for Android will also boost the popularity of the operating system. Handset manufacturers such as Asus, Sony Ericson, LG, Samsung, and Toshiba are already preparing Android handsets, choosing Google over Microsoft's Windows Mobile OS. Microsoft's entry features only 246 applications in its Windows Mobile Marketplace.
But besides various manufacturers preparing Android handsets, Google is also rumored to be working on its own mobile phone. The search giant is reported to be working closely with HTC, in order to incorporate a full "Google Experience" on its own phone, following the example of Apple and its highly successful iPhone, of tightly integrating the hardware and software, both which the Cupertino company makes.
So far, Google Android is headed into the right direction and is quickly building a loyal user base. We'll be able to paint a clearer picture of Android's future early next year, after we see what kind of sales the Motorola Droid generates during the 2009 holiday season.
Follow Daniel on Twitter @danielionescu
Note: When you purchase something after clicking links in our articles, we may earn a small commission. Read our affiliate link policy for more details.