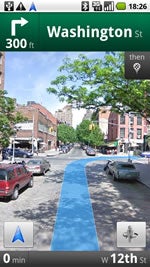 Google is gunning for a piece of the GPS turn-by-turn market with a new driving direction app for Google Android handsets. The move is a direct assault on GPS market leaders Garmin, TomTom, and Apple's iPhone which is growing in popularity as a GPS navigation device alternative.
The Google GPS features will be available on upcoming Android 2.0 phones will, also adding ammunition to its battle for smartphone supremacy.
Google Maps Navigation is a full-blown GPS system for mobile phones. It gives you turn-by-turn directions with voice guidance, 3D street views and automatic rerouting if you miss a turn. And unlike TomTom's $100 GPS app for the iPhone, Google's navigation tool is free. The catch? You'll need an Android 2.0 phone to use it, starting with Motorola's Droid.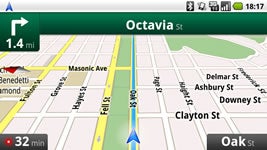 Really, we should have seen this coming (and there was chatter last week), because all the pieces have been place for some time now. You can already use Google Maps on mobile phones to search for points of interest, get directions and pinpoint your location. Street View allows you to see what an address looks like from the ground, and Google enabled voice commands for its search engine last year.
All that was needed was some glue — in this case, an interface that brings all those technologies together and a voice to navigate. You can search for directions by voice, use street views instead of the map during navigation, get live traffic data and search for businesses along your current route. Some phones will also have a car dock mode conducive for mounting the phone your dashboard.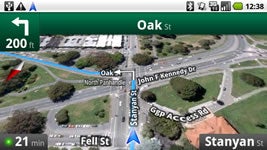 I do see one possible drawback with Google Maps Navigation: Instead of getting all its information by satellite, the GPS system uses the Internet. It's not clear exactly how this works, but I'm guessing all the information you need is pre-loaded when you enter your destination. That would mean if you enter an area with no coverage and take a wrong turn, you could have trouble getting re-routed.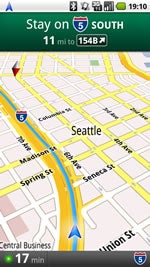 Still, TomTom and Garmin can't be pleased with the news. Same goes for companies that provide navigation services for mobile phones, such as Networks in Motion. In speculating last week that Google would launch a navigation service, Networks in Motion marketing vice president Steve Andler told Forbes that people "are willing to pay a premium to have something work all the time on their phones." They'd better hope so.
As an iPhone user, I'm a little dismayed as well. Excuse the pun, but iDon't expect Google to hand over its navigation service any time soon.