Move along folks, nothing to see here. I know that the headlines have been overflowing with the breaking news that Google will now let you use Google Voice with your existing cell phone number, but the limited functionality of the new Google Voice option is hardly anything to get excited about.
Google developed the new Google Voice option to cater to those who want the features and benefits of Google Voice, but without having to switch phone numbers. People spend years sharing contact information and expanding their social network by sharing their mobile phone number, so it is understandable that some are reluctant to change the primary phone number people should use to contact them.
The problem is that the new Google Voice option is lacking any of the features that make Google Voice worth using. Its sort of like Apple offering an iPhone for wireless providers other than AT&T, except that it can't actually make or receive phone calls, won't sync with iTunes, and doesn't have a touch screen display.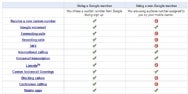 A quick look at the Google Voice site provides a complete list of the differences between regular Google Voice and the new Google Voice where you keep your phone number. The keep-your-number plan is lacking call forwarding, recording calls, SMS messaging, call screening, blocking callers, and conference calling. It is also missing the single most defining feature of Google Voice–the ability to simultaneously ring multiple phones with an incoming call and/or redirect calls to specific phones based on the caller.
About the only thing you get out of adopting the new Google Voice is that you get to keep your phone number, but Google Voice will intercept and transcribe your voicemail messages. Woo hoo?
I have Google Voice. The voicemail transcription is at the bottom of the list of Google Voice features worthy of coveting. The transcriptions are so bad that they are generally comical, bordering on useless. You could make a drinking game out of trying to decipher what the actual voicemail message was supposed to be based on the gibberish in the transcribed message.
Bottom line: the new Google Voice option defies the point of using Google Voice in the first place. Google Voice has a lot to offer, especially for a free service, but ff you are that attached to your mobile phone number, by all means keep it. This new Google Voice option isn't worth the hassle or the hype though.
One added thought though–if you can get the invitation to join Google Voice, let go of your mobile phone number and embrace Google Voice. So you have to share a new number with people. Its an opportunity to weed out some people you wish you hadn't shared your mobile phone number with, and the benefits of Google Voice are worth it.
Tony Bradley is an information security and unified communications expert with more than a decade of enterprise IT experience. He tweets as @PCSecurityNews and provides tips, advice and reviews on information security and unified communications technologies on his site at tonybradley.com .