Google Maps Navigation, introduced today, puts the company in direct competition with GPS makers and former best friend, Apple. The service, which can nicely replace a standalone GPS, is only available for handsets running Google's Android operating system.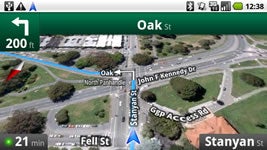 Is an iPhone version in the works?
Or, is Google really declaring war on its old partner?
You decide:
"Apple is a close partner, and millions of users experience Google Maps on the iPhone," said a Google spokesperson in an e-mailed statement.
"We will continue to work with Apple to bring innovation, including Latitude and Navigation, to users, but you'll have to speak to Apple about availability.
At one time, Google Maps Navigation would have surfaced first on Apple's iPhone. But, today's announcement of the service, which coincides with the formal announcement of Motorola's Droid handset, makes no mention of the iPhone.
Does that sound like a marriage gone sour, or what?
Google's other navigation app, a locator service called Latitude, is not available as an iPhone application and remains the subject of controversy as to who has kept it from being released, AT&T or Apple.
Is Google saying Apple will have to accept Latitude to get the new navigation service? Could be.
According to Google's official blog, the service includes all the features you'd expect in a high-end GPS for an automobile. These include turn-by-turn voice navigation, search bu voice, live traffic data, constantly updated maps, and searching along your route.
Street view allows drivers to see an upcoming intersection, with the route overlaid onto it. At the end of the trip, a picture of the destination is also displayed. (Nice touch for the chronically lost).
This is an excellent feature set and offers what a GPS user might want, minus a larger screen than most handsets offer. Garmin, Magellan, and Tomtom should be very afraid, indeed.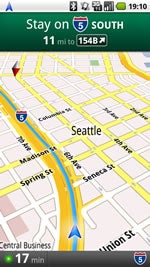 There is one important downside, however: You need a data connection to use the service, making standalone devices or maps loaded onto the handset a better option for some users.
While a handset may also be more difficult to use than a dedicated GPS (or not, it's open to debate), the price of Google's new service (free) is certainly right and saving the cost of a standalone GPS may pay for the handset.
If you are going to have a smartphone anyway, why not use Google's Maps and save some money on a GPS?
Yesterday, I wondered aloud how long it would be until iPhone users would need to make a decision betweens staying with Apple or moving to Android. I speculated that Google might release a "killer app" for Android that would not be available for iPhone. I didn't think I only had a day to wait.
David Coursey tweets as @techinciter and can be contacted via his Web site.
For convenience, here is how Google describes the features of its new navigation service:
The most recent map and business data
When you use Google Maps Navigation, your phone automatically gets the most up-to-date maps and business listings from Google Maps – you never need to buy map upgrades or update your device. And this data is continuously improving, thanks to users who report maps issues and businesses who activate their listings with Google Local Business Center.
Search in plain English
Google Maps Navigation brings the speed, power and simplicity of Google search to your car. If you don't know the address you're looking for, don't worry. Simply enter the name of a business, a landmark or just about anything into the search box, and Google will find it for you. Then press "Navigate", and you're on your way.
Search by voice
Typing on a phone can be difficult, especially in the car, so with Google Maps Navigation, you can say your destination instead. Hold down the search button to activate voice search, then tell your phone what you want to do (like "Navigate to Pike Place in Seattle"), and navigation will start automatically.
Traffic view
Google Maps Navigation gets live traffic data over the Internet. A traffic indicator light in the corner of the screen glows green, yellow or red, depending on the current traffic conditions along your route. If there's a jam ahead of you, you'll know. To get more details, tap the light to zoom out to an aerial view showing traffic speeds and incidents ahead. And if the traffic doesn't look good, you can choose an alternate route.
Search along route
For those times when you're already on the road and need to find a business, Google Maps Navigation searches along your route to give you results that won't take you far from your path. You can search for a specific business by name or by type, or you can turn on popular layers, such as gas stations, restaurants or parking.
Satellite view
Google Maps Navigation uses the same satellite imagery as Google Maps on the desktop to help you get to your destination. Turn on the satellite layer for a high-resolution, 3D view of your upcoming route. Besides looking cool, satellite view can help you make sense of complicated maneuvers.
Street View
If you want to know what your next turn looks like, double-tap the map to zoom into Street View, which shows the turn as you'll see it, with your route overlaid. And since locating an address can sometimes be tricky, we'll show you a picture of your destination as you approach the end of your route, so you'll know exactly what to look for.
When you purchase through links in our articles, we may earn a small commission. This doesn't affect our editorial independence.