Motorola's Droid, available next week from Verizon, has generated the most excitement of any smartphone since Apple's introduction of the iPhone. How do the two compare?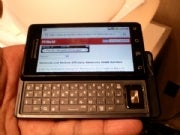 This is a follow-up to yesterday's column, in which I predicted a window will open with the introduction of a new iPhone, perhaps next June, when many iPhone users will be "in play" and willing to consider the Droid.
As an iPhone user who is more than a little interested in the Motorola's newest, I have compiled a personal scorecard comparing important features of the two phones. Your scores will likely differ from mine and this is a work in progress.
(If you want to learn more, here is our excellent hands-on Droid report from the intro in New York).
Here goes:
Hardware — Android Wins
The Droid, with its 5 megapixel camera, slide-out keyboard, and larger screen, has the edge here. The Droid also has a removable and replaceable battery, which seems more important than it probably turns out to be.
The slide-out keyboard may or may not be a win for Android. I have come to appreciate the iPhone's on-screen keyboard and may not like the feel of the Droid's keyboard. This could be a tiebreaker later on.
Operating System — Android Wins?
It is hard not to look at or read about Android 2.0 and not see a better operating system than what Apple reveals of its iPhone OS. Android is fully multitasking, for example, a feature Apple provides only for the iPhone apps whose icons appear permanently at the bottom of the screen.
The proof of this superiority, however, will have to be borne out by the quality of applications that can be built for each OS.
Right now, Android appears to be the better smartphone operating system, but it is too early to tell. Apple could make big changes here and rebalance the game.
(What to know more? Here is our complete Android primer).
Applications — iPhone Wins
To paraphrase the old Elvis album title, "100,000 iPhone apps can't be wrong!" And, yes, today the iPhone has an approximately 10x lead on Android apps. That seems to be changing, which I wrote about yesterday, and it will not take 100,000 apps for Android to have its bases covered.
The Droid has Microsoft Exchange support, which is very important to many business users, but not to me.
If I were a big Google apps user, I would be more interested in the Droid right away. However, my Gmail account merely forwards messages to the iPhone and I am happy with that.
However, today's introduction of Google's new turn-by-turn navigation service, available only on Android, opens the possibility that Google will preferentially develop apps only for its own operating system. That could become important if it occurs, which I think is likely.
Right now, iPhone wins the apps battle. However, Google and the Android development community could neutralize the issue within a year to 18 months. And, I badly want the new Google turn-by-turn navigation service, only available–for now–on the Droid.
Until then, however, the lack of Android apps makes me a committed non-purchaser.
User Interface — Toss-up
I am flexible and thing most users are, too. There are things to like dislike about any UI, but both Droid and iPhone do well on this score. I will update this when I have Droid-specific experience to relate.
Ecosystem — iPhone Wins
The iTunes Music and App stores are an incredible source of strength for the iPhone. Google could match Apple, but is hampered by not actually wanting to be in the business of selling music, videos, or applications.
Apple will exploit this strategic weakness.
Control Issues — Android Wins
Apple's biggest strength is that Steve Jobs is a control freak. Google is more of an open systems company. In the real world, freedom often beats totalitarianism, though it can take a while.
Google choice to not control app sales and have an open development environment should pay dividends. Nevertheless, Apple retains the ability to closely focus and build products, like the iPhone and Macintosh that are products of attention to and control of everything.
The Verdict
Today, the Droid is an attractive handset that is on my "someday list." As excited as I am by the Droid, if I had to purchase my first smartphone today it would still be an iPhone, if only based on available applications.
However, if I need a second phone, it will be a Droid.
My real decision won't come until Droid reaches a critical mass of applications, at which point Apple's hardware had better be fully competitive or I could easily be lost.
David Coursey tweets as @techinciter and can be contacted via his Web site.