Facebook gathered developers together to share changes and improvements it plans to roll out over the next two quarters. The event, dubbed Facebook Developer Garage Palo Alto – Roadmap Edition, was also streamed over the Web simultaneously via Ustream.
Facebook co-founder, CEO and president Mark Zuckerberg kicked things off by providing some background regarding where Facebook is now and the vision for the future. Zuckerberg began by saying "Facebook Platform is quickly becoming, along with Connect, is quickly becoming one of the most important parts of our strategy."
Zuckerberg then introduced Ethan Beard, director of business development for Facebook and the leader of the Platform developer team, to walk through the development roadmap and answer questions from developers about how the changes will impact the API's and the applications that have already been developed.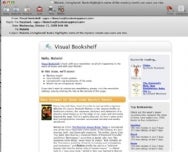 There are a number of changes, ranging from minor to significant, that Facebook is implementing over the next few months. One of the first changes is to empower application developers to directly manage their relationship with users by providing a secure way for users to share their primary email address with the developers.
Many of the changes are geared toward simplifying the Facebook platform. I am not a developer, but that sounds like a solid plan to me. As a user, I have struggled on more than one occasion to figure out how to navigate to a specific page or game. The interface and the organization of the site are often confusing and counter-intuitive.
Facebook is significantly streamlining the user experience. Communications are going to be consolidated to the feed stream and the Inbox. It is adding a new bookmarking capability and introducing new dashboards, including an Apps dashboard and a Games dashboard, that will simplify navigation.
There is a complete list of the upcoming changes and the proposed timeline for implementing them on the Facebook site. It is brilliant strategy for Facebook to engage the developer community in this way and to proactively share the upcoming changes to the platform.
Facebook provides value to the user community by providing a robust and flexible platform for developers. It needs the developer community to continue to create innovative tools and compelling applications to engage users and keep them coming back. Empowering developers to engage customers more directly, and simplifying the interface to make it easier for users to find games and applications is a win-win-win that benefits users, developers, and Facebook.
Beard ended by saying "Facebook as a product changes very quickly" and stressing to developers "we understand that changes can be hard to work through. We want to do our best to make it easy for you."
Holding an event such as this and presenting the roadmap is a great way to make the transition easier. Last Friday Facebook introduced changes to the main user homepage with little warning for users which led to frustration and complaints from many users.
Facebook could foster some goodwill with the 300 million plus users if it proactively shared upcoming changes the way it shared this roadmap with developers. It would also be nice if Facebook would borrow a page from Google's playbook and prepare little video tutorials to explain the changes and educate users about how to take advantage of them to maximize their Facebook experience.
Facebook has a link to Ustream where you can view the recorded presentation in its entirety.
Tony Bradley is an information security and unified communications expert with more than a decade of enterprise IT experience. He tweets as @PCSecurityNews and provides tips, advice and reviews on information security and unified communications technologies on his site at tonybradley.com .