Editor's note (11/3/09): This article originally incorrectly quoted the lyrics to Bon Jovi's song "Livin' On A Prayer." The post has been corrected to reflect the proper lyrics, and we regret this error. As noted in the article, however, Google's search product was still able to identify the song correctly (even with the incorrect lyrics), but Google's new music search service failed to deliver a music sample.
Google got a lot more musical this week, when it unveiled a new integrated music feature that lets you play full songs and limited previews in your search results. Enter a music-related query like a song title, artist, album name, or even partial song lyrics and Google says it will give you results with a song clip if available. The new service sounds great in theory, but in my tests it didn't quite match up to Google's claims.
The Music Search
The song clips come courtesy of Google partners MySpace (which recently acquired iLike), and Lala. Google also includes in its search results links to Pandora, Imeem, and Rhapsody when available. Notable absences from this list were links to the iTunes Store, as well as Amazon's music download service. Instead, Google has gone with online music services that focus mainly on cloud-based music delivery. Lala does have a download option, as does Imeem, and Rhapsody has subscription-based downloads. Nevertheless, these services are focused primarily on Web-based music delivery. Read into this what you will, but I thought it was interesting that Google excluded the two services, iTunes and Amazon, that are exclusively focused on selling downloads.
The Test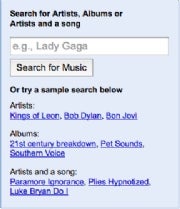 I wasn't able to trigger the music search results from the Google homepage, so I had to use Google's Discover Music landing page to check out the service. The landing page has an introductory video, as well as a search box where you can enter your music-related query.
In my tests, Google easily delivered music samples when searching for album names, artists, and song titles. However, when I searched using song lyrics, Google often came up short. Searching for "I walk alone," for example, brought up a song called "I Walk Alone," from a WWE Raw wrestling album produced in 2007. It did not, however, bring up a song that famously repeats those words over and over again–"Boulevard of Broken Dreams" from Green Day's 2004 album American Idiot. I had the same experience when I searched using the terms, "Tommy used to work on the docks," or "we're halfway there," both of which are references to the Bon Jovi classic "Livin' On A Prayer."
This was disappointing since Google said song lyrics would work with the new search, and I felt my search terms would easily identify the songs I was looking for. In fact, these terms were easy for Google, since both searches pulled up references to the songs I wanted, but the music samples failed to appear in the search results. I should note that when I threw in the band name next to these song lyric queries, Google did return the song samples.
The Music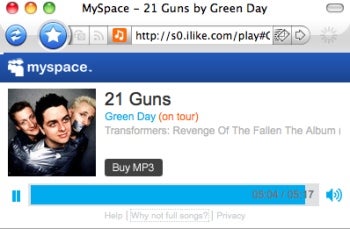 Once you've found the music sample you're looking for, you can click on the play button next to the song title that triggers a pop-up window with your music. Depending on the licensing agreements for that particular song, you will either hear the full song or a thirty-second clip. But don't think you can turn Google into your own personal music station. Once you've heard the full song once or twice, the full song switches over to the shorter sample. You can get around this by emptying your browser cookies to get the full song again, but in my view it would be less of a hassle to just buy the song.
Music
Although Google's new music search feature isn't perfect, it is a pretty good way to find the music you're looking for online. According to the metrics firm Experian Hitwise, Google is a popular destination for music searches. Of the top 1000 searches last week, 6 percent were music related. Google also directed thirty percent of all music-related Web traffic from its search engine to third-party Websites–five times more than Yahoo did.
Yahoo also has a similar service that allows you to play full songs and sample clips within your search results. Yahoo's music is provided exclusively by Rhapsody, featuring a player that stays within your search results window instead of using a pop-up. Yahoo's search results were less robust than Google's in my tests. I could only find music samples when I searched for artist names, not song or album titles. But if you're looking for a simple way to sample a particular song, either service will work just fine.