On October 29, 1969, the Internet came in not with a bang, but with a "lo."
Letter by letter, UCLA computer science professor Leonard Kleinrock sent a message from his school's host computer to another computer at Stanford Research Institute. Kleinrock was trying to write "login," starting up a remote time-sharing system, but the system crashed after two letters, and lo! The Internet was born with the first data message sent between two networked computers.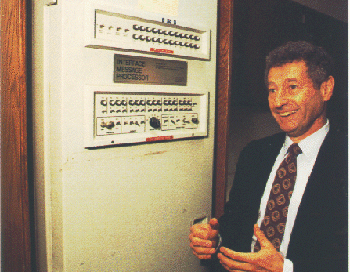 (Photo of Leonard Kleinrock from his own personal history page.)
To be fair, the creation of the Internet was peppered with other milestones that could be considered more or less historic. After all, at the core of the Internet was packet-switching–the process of breaking down data into blocks and routing them individually–and in 1968 Donald Davies of the UK's National Physical Laboratory gave the first public presentation of the idea.
But if we can all agree that communication–e-mail, chat, social networking–is what makes the Internet tick, Kleinrock's first message was the most significant early step towards what we have today.
Today, 40 years later, life without the Internet seems unfathomable. In those rare occurrences where your Internet service provider has trouble, and you can't connect, it's as if the power is out in your entire house. Over 1 billion people are online, and last year, Google announced that it had detected over 1 trillion pages.
How did we get from Kleinrock's anti-climactic, yet historic, "lo" to a society that lives and breathes on the ability to transmit data? Over the years, more computer terminals connected to the network, hosted by the U.S. Defense Advanced Research Projects Agency and known as ARPAnet.
(Photo of Vint Cerf courtesy of Brisbane Times)
In the mid-70s, DARPA engineers Vint Cerf and Yogen Delal and Carl Sunshine developed Transmission Control Protocol/Internet Protocol, abbeviated as TCP/IP, a means for networks to "internetwork," hence the name "Internet." You could, of course, call the development of TCP/IP, or its uniform adoption by ARPAnet on January 1, 1983, birthdays of the Internet as well.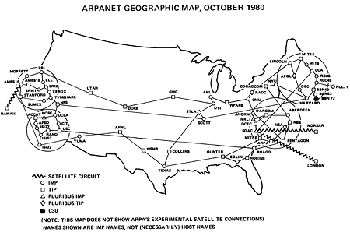 (ArpaNet map courtesy of Mappa Mundi)
Over the years, the number of connected terminals bloomed, and new networks outside of ARPAnet popped up. All of this set the stage for the World Wide Web, proposed by Tim Berners Lee in 1989 as a collection of Internet documents viewable in a browser. Five years later, we had the first Web browser in Mosaic Netscape 0.9. Then came "Web 2.0," a term for participatory sites like Digg, Facebook and Flickr that becomes more of a cliché as the way we communicate over the Internet advances further.
And to think it all started with a truncated bit of text. Even then, the Internet was a work in progress.