Asus debuted the world's first SuperSpeed USB 3.0 motherboard this Wednesday, branded with the highly memorable moniker of Asus Xtreme Design P7DP55DE-E Premium. Catchy, I'm sure you'll agree.
The new hybrid motherboard is based around Intel's P55 Express Chipset, which does not support the new faster USB 3.0 standard. As a workaround, Asus makes use of an unnamed third-party USB 3.0 controller to make everything play nicely. This move turns a blind eye to the recent rumours that Intel's very own USB 3.0 friendly chipsets will be delayed, potentially slowing down overall SuperSpeed adoption rates. So this product announcement comes as a welcome offering, despite Asus' disappointing failed dabble with USB 3.0 motherboards earlier this year.
Asus' well-equipped new motherboard offers a pair of SuperSpeed USB 3.0 ports,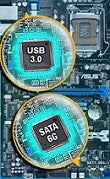 a very generous ten USB 2.0 ports, along with two PCIe x16 graphic card slots, six 3Gb per second SATA ports, two 6Gb per second SATA ports and a pair of Gigabit Ethernet ports.
Since the motherboard can take advantage of the 6GB-per-second SATA interface, ASUS claims that this new motherboard can achieve super-fast transfer speeds, with a 20GB High Definition movie file transferring in less than seventy seconds.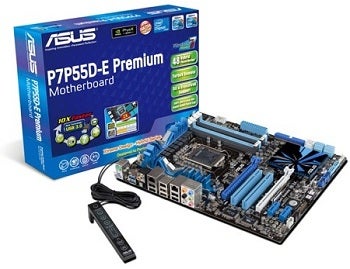 The Asus Xtreme Design P7DP55DE-E Premium will be available next month for $299 and will ship with Windows 7 drivers.
Follow GeekTech and Chris Brandrick on Twitter.