In an unexpected move, Nintendo says it plans to launch a jumbo-sized version of its DS handheld in Japan with twin screens nearly twice the area of those found in the current models. The new system, dubbed the DSi LL, will hit the streets on November 21 and sell for ¥20,000 or about $220 USD. Specific timetables weren't offered on other market launches, but a company spokesman says the device will go on sale overseas (it'll be called the DSi XL) in the first quarter of 2010 according to our correspondent in Japan.
The company's dual-camera DSi was just released in April with 3.25-inch screens, a quarter-inch larger than the original DS's 3-inch pair. The DSi LL will weigh in with comparably jumbo-sized 4.2-inchers, a hair's breadth smaller than the standard PSP's 4.3-inch LCD and actually larger than the PSP Go's which measures 3.8-inches.
The upside: Battery life will be three hours, or about 30 minutes longer than the DSi and on par with the DS Lite.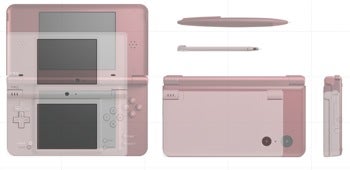 The flip side: The DSi LL's resolution will remain 256 x 192, meaning games will appear larger, but so will those pesky pixels. Compare the DS's discrete screen resolutions with the PSP's single 480 x 272 LCD. True, the DS has to manage dual outputs, but most games pipe the action to just one of those, feeding complementary information to the other. If you thought DS games looked blocky on the DS Lite or DSi, the DSi LL only exacerbates the issue.
Then there's the question of weight. The DS Lite weighs 218 grams. The DSi weighs 214 grams.
The DSi LL? 314 grams. That makes it 14 grams heavier than the original Nintendo DS (300 grams). You know, the chubby one launched back in 2004.
(Incidentally, we know what DSi XL means, but what's 'LL' stand for? 'Lu-Lu'? 'Laterally Longer'? 'Lots Larger'?)
Surely all that extra plastic space means they've reintegrated the Game Boy Advance slot? Nope. No dice. The DSi LL is just a Whopper-sized DSi, absent GBA-cart slot to boot.
We don't need another DS, Nintendo. Really. Not this side of the pond. I can't imagine anyone being for it, having already bought millions, and presumably upgraded once or twice. The next handheld you release deserves to go toe-to-toe with Sony's PSP or Apple's iPhone in screen real estate. Something to complement the long overdue processing update. And yes, it's time for an update. Something that'll accommodate a little pocket-sized Conker's Bad Fur Day or Zelda 64.
Besides, the DSi's already in the sweet spot. Its dual screens don't need to grow a millimeter. It's got just the right heft to feel solid and durable without causing fatigue from holding it up during extended play sessions. I can fit a 214 gram flip-top handheld in my pocket and slip it into an iPod sock.
But I'm not toting a 314 gram mini-brick anywhere.
UPDATE: Yes, I get that Nintendo may be marketing this to gamers with vision issues, and I can get behind that kind of functionality in a heartbeat, but if that's its intended purpose, Nintendo's done a poor job up-selling out of the gate.
Follow me on Twitter @game_on