There has been a lot of media attention around the Verizon Droid and whether or not it's a viable competitor the formidable Apple iPhone. There has even been a fair amount of coverage regarding the Google Android 2.0 operating system that drives the Droid. The unsung supporting actor behind the Droid though is Motorola, and Motorola's path to recovery is possibly the bigger story.
Motorola had all but fallen off the radar, but has apparently regained some handset innovation mojo and is fighting to regain relevance in a tough mobile device market. Prior to recent months, the last handset success Motorola had was the Razr, which debuted in 2005. That's a long time to go without a 'win' in an industry that rolls out new devices faster than the ink can dry on the 2-year contracts they typically come with.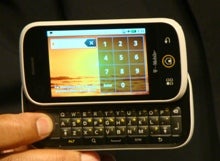 Motorola, or at least Motorola's new products, have been dominating headlines for a couple months now. Both the Cliq, a T-Mobile exclusive, and the Droid, a Verizon exclusive, are slick, innovative devices that are capturing the attention of users in the market for new smart phones.
Motorola owes some credit for its rebound to Google. The Android operating system is the platform that both the Cliq and the Droid are built on. The open source development platform provides Motorola with a great deal of flexibility to customize and extend the capabilities of its devices, while also saving licensing fees since the OS is open source.
Android allows Motorola to take advantage of the Android Market apps store, and develop custom interfaces like MotoBlur. The MotoBlur interface that Motorola developed for the Cliq has received some mixed reviews, but even those who find fault with the implementation still appreciate the concept and give Motorola credit for the innovative concept.
Motorola just announced its first profitable quarter for some time. Granted, the profit was only a penny per share, but a penny per share profit beats the heck out of losing money. It is particularly good news for Motorola, which had seen a decline in handset shipments of almost 50 percent, and a drop in revenue almost as large.
When Motorola was riding the Cliq alone and had its carriage hitched to T-Mobile I had my doubts that it could mount a successful rebound. But, Motorola followed up the Cliq with the Droid. The Droid looks like a more capable hardware device, built on a more robust version of the operating system (it's the first mobile device with Android 2.0), and distributed through a much larger wireless provider.
T-Mobile and the Cliq by themselves were probably not a horse that Motorola could ride to victory, but combined with Verizon and the Droid, Motorola is regaining its reputation as a leading mobile device manufacturer and giving users something to be excited about again.
Tony Bradley is an information security and unified communications expert with more than a decade of enterprise IT experience. He tweets as @PCSecurityNews and provides tips, advice and reviews on information security and unified communications technologies on his site at tonybradley.com .