Seesmic Desktop is one of a number of apps that combine your social media feeds in one place. Operating under the theory that checking Twitter, Facebook, and so on for all your needed updates is cumbersome and time consuming, Seesmic attempts to streamline the process. It's only partially successful, so the question is whether it does enough to suit your needs.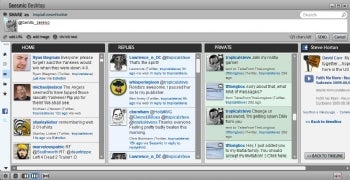 As with all Adobe Air apps, it's a pain to have to download and install Adobe Air first (if you don't have it already), then download and install the application. The average user won't even know what Adobe Air is and what it's for. In plain language, Adobe Air allows apps written in Web-based code like HTML and JavaScript to be run standalone, without the need of a Web browser running.
Once you're past the installation hurdles, setup is simple: Just provide your social media logins and passwords when Seesmic asks for them, and it automatically integrates them into multiple panes. The "Home" pane is a mashup of your status updates, while Replies and Private seem to be Twitter-specific (though it'd be nice if these included Facebook comments and private messages, respectively). Then, there's an optional Facebook-only pane on the far right. If you reply to a Facebook post anywhere else, this far right pane duplicates that content and gives you space to reply. Conversely, if you reply to a Twitter post in any of the panes, the reply is written up at the top of the app.
Due to these odd user interface choices, Seesmic seems to want to have its cake and eat it too: It kind of integrates Twitter and Facebook, but not really–one has replies over here, the other over there. Seamless integration would be nice, especially if you're just interested in digesting a lot of content quickly and don't care where it comes from. Alternatively, complete separation would also be nice–such as a Home pane that has only Twitter and a Facebook pane that has only Facebook. Seesmic is instead an uncomfortable integration of the two.
Seesmic is also available in-browser without even the need of a plugin installed (similar to how Web mail works), which makes sense given its roots as a Web-based program. Seesmic also makes a nice contrast to another free competitor, Yoono Desktop. Seesmic shows everything on one screen without a lot of clicking, giving it the clear edge. However, Yoono supports more social media besides just Facebook and Twitter, including MySpace and instant messengers. If you need an app that goes beyond those two, try Yoono–otherwise, stick with Seesmic.