An impressive feature of Google's new Android 2.0 mobile device operating system is Google Maps Navigation, a
that's not only free to use, but is fairly easy to learn as well.
The application is included with Motorola's new Droid handset for Verizon Wireless, introduced earlier this week as the first Android 2.0 device on the market.
Google Maps Nav's Extras
While driving directions via Google Maps has been available on many mobile devices for years, including Apple's iPhone and iPod devices, Google Maps Navigation raises the ante by adding spoken turn-by-turn direction, something available only with extra-cost additions to the iPhone. Google Maps Navigation makes good use of the almost bottomless text and image resources of Google's search database and takes advantage of user input to make changes to its maps as necessary.
Turn-by-turn navigation solutions for the iPhone include products live CoPilot Live for iPhone from ALK Technologies ($35) and TomTom Interna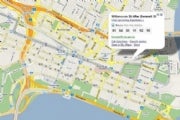 tional BV's TomTom app for the iPhone ($100). Both products include maps of the U.S. and Canada that are stored on the phone. Maps of other countries and regions are available, but at extra cost. Both offer customizable voices and detailed 2D and 3D maps with thousands of points of interest, access to weather, and traffic data; and provide the iPhone with clear information with large fonts for easy reading.
Instead of generic maps, however, Google Maps Navigation can lead you to your destination using real overhead and street-level photos. You can allow the application to overlay your route over a satellite view — a feature not available in most standalone GPS devices.
As you get close you your destination, the navigation screen switches to Google's Street View, an interactive, street-level photograph complete with arrows. This view can be reassuring in cases where, for example, you're looking for a specific building number but can't see the sign from your car.
Testing the Maps
When tested with a the location of a Rite Aid drugstore in New York City, the navigation ended accurately with a Street View of White Plains R
oad beneath the elevated tracks of the No. 2 subway line in the Bronx, which has a stop just above the store.
Of course Google doesn't have Street View images for all locations. In these cases, the best available maps, overhead or otherwise, are used.
Once the Droid is inserted into its optional car window mount, it automatically switches to "Car Home" mode, which provides quick access to the features of Google Maps Navigation. The main menu includes five large icons labeled View Map, Navigation, Voice Search, Contacts, and Search; and a smaller Home icon that gets you back to the phone's home page.
In practice the voice search worked well, properly understanding the names of streets and landmarks. If the application isn't sure of which location you mean, it offers a list of choices. Aside from giving it addresses, you can say the name of a store ("Walgreens" or "Rite Aid," for example) or a type of business ("Chinese food," "gas station," "copy shop," etc.) and the application will find a handful of locations and let you choose from a list. It had a little trouble with "CVS," however, not understanding that it was the name of a store and not just three letters.
The top of the Google Maps Navigation screen glows green, yellow or red to give you a hint of what traffic is like ahead of you. The directions barked out by the female voice was distinct and understandable on the Droid and included warnings like "GPS signal has been lost."
The user experience is about the same as with a standalone GPS device except for the fact that the Droid (like the iPhone) has its own Internet connection, as opposed to a GPS device which would need a Bluetooth connection to another device to get on the Internet.
Droid's Friend
The Droid's powerful 550MHz processor and hardware-accelerated graphics allows for smooth scrolling of the navigation maps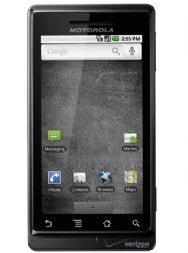 as long as there's a good 3G data connection. While the iPhone's 480-by-320-pixel display is more than adequate for maps, the Droid's ultra-sharp 480-by-854-pixel screen clearly gives it an advantage with photographs.
Of course the key advantage of Google Maps Navigation over the iPhone solutions is that it's free. No subscription is needed and since all of the mapping data is on the Web, there are no files that need to be updated on the phone.
Google Maps Navigation is clearly a work in progress, however. The first screen you see when you access it on the Droid is a terse reminder of how new the product is: "Google Maps Navigation is in beta. Use caution. Do not manipulate this application while driving. Traffic data is not real-time, and directions may be wrong, dangerous, prohibited, or involve ferries. Keep your eyes on the road!" Enough said.