Epix is a new service launching this weekend that will allow you to watch more than 150 high-definition movies online, including Iron Man, The Curious Case of Benjamin Button, and Raiders of the Lost Ark. The new service is a joint venture from Paramount Pictures, MGM, and Lionsgate studios, but it won't be available to everyone at launch. Here's what you need to know:
Epix: A New Way To Watch Movies

Epix, a television channel and online movie-streaming site, plans to increase its selection to 3000 movies over the next year, with a long-term goal of making available more than 15,000 titles, according to a report in Venture Beat. The service also plans to create original content, putting it head-to-head with channels like HBO and Showtime.
Epix Inspired by the DVD
But Epix is more than just movies; the online site offers DVD-like extras including behind-the-scenes footage and celebrity interviews. The service will also take a page out of the Blu-ray playbook, by offering BD-Live style private screenings allowing you and up to five friends watch a movie online from remote locations. The best part is, your invited friends don't have to be Epix subscribers. Controls for the movie such as start, stop, pause, and rewind remain in the hands of the private screening host.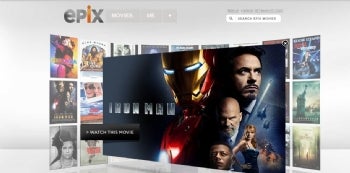 Who Can Get Epix?
Right now, complete access to Epix costs $10 per month, and is available only to Verizon FIOS subscribers. But during the month of November, Epix will be offering weekend access to its online service to non-FIOS subscribers on a first-come, first-serve basis. To get your invite, go to http://www.epixhd.com/invite/.
Epix says it is pursuing deals with other cable and Internet providers, according to Read Write Web. So don't expect Verizon FIOS to be the exclusive Epix provider for too long. According to the Epix Website, the service is also working on expanding its services to customers outside the United States.
Tech Specs and High-Def
To use Epix's online service, you will need a downstream broadband speed of at least 500kbps. But to take advantage of Epix's online high-definition resolution of 720p, I'm guessing your connection will have to reach at least the 2000kbps range. Epix is a Flash-based Website, so your computer should already have the necessary software to view Epix content.
Epix sounds like it has a lot of potential, and, if it works as advertised, should be a nice complement to sites like Hulu that offer premium television content online.