Too much, as least so early, is being made of the Motorola Droid's supposedly magical powers. Can a single handset "save" Motorola, launch a new operating system, and smite the evil Steve Jobs?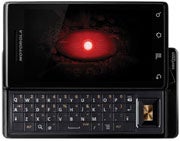 It is tempting to compare the Droid to the previous magic handset, the Palm Pre, which was supposed to save Palm, launch s new operating system, and smite the evil Steve Jobs.
The Palm Pre met none of those lofty expectations and has faded almost into insignificance. The Pre, however, lacks the Droid's Google-Motorola-Verizon pedigree. Which either gives it triple magic powers or three cooks to spoil the broth. (Read our review of the Palm Pre).
Today it's the former–three great tastes that taste great together. But, that is tricky to manage and can certainly become bitter over time.
(Want a different take? Read Put Droid to Work with Google Services to learn how this new phone can help small business.)
Here's my take on what is really going on in the Droid's new world order:
1. The Droid appears to be a very nice piece of hardware (read our review) and does more to send consumers' hearts pitter-pad than the Pre. It is the hardware that Google's Android needs to show itself to advantage. Of course, this is also a better Android than was available previously.
2. Android is a fine operating system, but it is wise to withhold judgment on the value of its "openness." It may not matter than a handset OS is "open" to any significant degree.
Or it may matter more than is apparent today. It will be up to the development community to prove that smartphones do not need to be managed with Steve Jobs' iron fist to be successful. (Read our Android 2.0 Primer).
3. One handset will not return Motorola's lost glory. The company is far too mired in failure and, frankly, even a hugely successful Droid will not see enough units to turn the battleship.
However, it does seem as though Motorola has managed to develop a high-end product that excites people, which is more than the company has been able to accomplish lately. Verdict: Motorola cautiously seems on the mend, which is nice to see. (Read about Motorola "surprise profit" announced yesterday).
4. The Droid clearly puts Verizon back into the prestige position among U.S. carriers. The rise of the iPhone allowed AT&T not to eclipse Verizon so much as to take the spotlight off the network as customers flocked to AT&T's not-so-great infrastructure to get a cool phone. Now, Verizon has both the phone and the network that people want. I wonder whether Verizon really wants the iPhone anymore? (Read our review of the iPhone 3GS).
5. Or does it? Any dispassionate observer must conclude that the Droid is not today, nor will it be in the next few months, a real iPhone competitor. It simply does not have the apps support or iTunes on its side. I do not see Google building as strong an ecosystem as Apple has created any time soon. Score one for the iron fist. Over time, Google's unwillingness/inability to bring the fight to Apple could be huge limitation upon the Android community.
6. Related to #5 is the number of players it takes to make Android a success. Not just hardware developers and carriers and Google, but also the companies involved in selling music and applications. Apple seems neat and this aspect of Android seems messy. That could turn into a big win or a crippling weakness.
7. Having mentioned the Palm Pre, it is worth mentioning that short a miracle Palm is over. (Read my early take on the Pre turning sizzle into fizzle).
Every Pre customer should be sorry they did not wait for the Droid, which will be the real iPhone competitor going forward. Actually, that is a misstatement that leads us to…
8. It is a mistake to focus too much on a single piece of hardware. The Droid is exciting, but it is just the beginning of Android. Google needs to keep the momentum up by working with manufacturers to avoid having a bunch of so-so Android products released as follow-ups, damaging the operating system's reputation.
9. I also wonder about the wisdom of Google lending the name of the operating system to a single device or family of devices. Sure, Droid is Android, but isn't Android supposed to be more than the Droid handset? Moreover, how does another manufacturer promote the Android OS without promoting a competitive Motorola phone at the same time?
10. Google Maps Navigation is today's killer app for the Droid, but it will not be enough. If Google has a bunch of these up its sleeve, then Android gets a boost. If not, and especially if Maps Nav shows up on the iPhone–which Google says is Apple's decision more than its own–so much for Android's success being driven by killer apps. (Read why I don't think Google will kill standalone GPS).
It is easy to read too much into the initial enthusiasm for the Droid. Palm's Pre generated the same level of excitement and promptly sank below the waves. Droid will not do that, but Apple still has most of the marbles and it may be a year or more before that changes.
How will Droid weather the inevitable "down time" that will come post launch, when people realize its a great phone badly in need of applications that don't yet exist? This gives Apple a window to solve its "iDon't" hardware issues and a real chance to maintain leadership in high-end handsets.
(Read my first take on how long it will be until Droid overtakes the iPhone).
David Coursey tweets as @techinciter and can be contacted via his Web site.