Faces are among the hardest things to photograph well, and the advent of high-end digital photography serves only to magnify and enhance the normal blemishes and unflattering facial details that most of us prefer not to share with the world. Faces are also incredibly hard to touch-up well, which is why Photoshop artisans who work for fashion magazines get paid the big bucks. For the rest of us, there's Luxand Glamourizer ($30, 14-day free trial).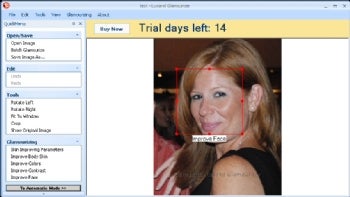 Simply put, Glamourizer is an inexpensive photo manipulation tool with a narrow specialization: face and skin tones. Using one of several automated touch-up tools within Glamourizer, you can not only remove red eye or modify the resolution of the image to prepare it to be posted to the Web, but tone down freckles, even out skin tone, and gently wash away small blemishes or unsightly marks without having to resort to washing out the detail of the photograph with over-contrasting or other tricks.
The tool does have some limitations, which is why there's a full-featured 14-day trial to let you pit it against your most challenged photos. As a seasoned photographic tinkerer, I didn't like simply giving the program control of whatever parameters it modifies when it invokes one of its "Glamourizing" commands. You can switch the program between a fully automatic mode (which in addition to its red-eye reduction and downscaling commands has a single "Glamourize" command) and what the program refers to as "Advanced mode," where you can invoke commands that claim to neutralize skin tone, gently blur facial imperfections, and/or improve overall color or contrast in the entire picture. But neither mode really gives you any sort of manual control over what the program does. The menu options simply let you invoke the command, for example, to make whatever changes the "Improve body skin" feature, or the "Reduce spots" action does on the photograph. There are no sliders or dials–you either do it, or you don't.
While the results were impressive on the test photos I used, your mileage may vary: there was a little softening of the focus in the image in the process of making the modifications, which I can imagine would become more pronounced in photos which require more cleanup work. That said, perhaps someone who habitually takes less than stellar portraits, and lacks a command of the touchup controls in a standard image editing application, may find Glamourizer's one-click process appealing.