Why do so many people want to dress up as an iPhone for Halloween? Can't nerds dress up as something normal like Steve Jobs or the Lin
ux Penguin? In recent years more and more Halloween party goers are choosing to dress up like an iPhone.
What would possess someone to dress up like their favorite piece of technology? It's not like an evil spirit or seductive she-devil where you can act out certain personality traits. The iPhone, in the end, has no real personality; it's just a fancy piece of plastic with lights and buttons. Isn't it? I put this question to Sally Foster, a former psychology professor and dean of San Elijo Campus at MiraCosta College in California.
"In general, people choose Halloween costumes more with their subconscious minds, much like we select our mates," Foster says. "A shy person picks something cool because they want to be cool. If, on the other hand, someone hated technology . . . they'd dress up as a malfunctioning, or archaic piece of equipment." I guess that accounts for this guy who dressed up as the Windows Blue Screen of Death.
Bottom line, Foster says that says since technology is so much a part of our lives, it is not at all surprising to see many technology-inspired costumes.
There you have it: In a sense, you are what you dress up as — even if you don't realize it. So the big question is: What kind of iPhone are you?
Eco Friendly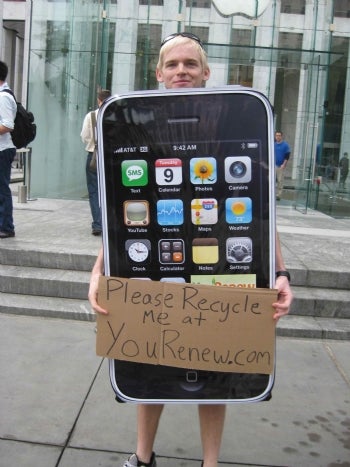 Fortune blogger Philip Elmer-DeWitt spotted this eco-conscious iPhone evangelist in New York. The Apple-themed crusader was reminding us to think about the planet by recycling old devices. (Click on image to enlarge)
The Chick Magnet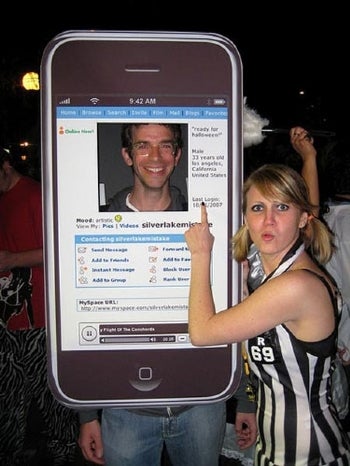 Here is further proof that a hot piece of technology gets more attention from girls than your dad's sedan. This iPhone lover was dressed to impress by turning himself into his MySpace Mobile page, displayed on an iPhone. (Click on image to enlarge)
The Fit iPhone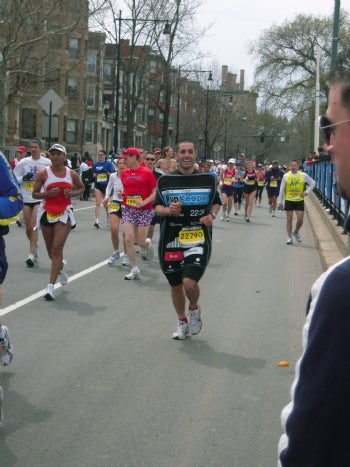 Jason Jacobs, founder of the RunKeeper iPhone application, decided to run the 2009 Boston Marathon dressed as an iPhone. Of course, Jacobs' costume displayed his very own RunKeeper app. RunKeeper is a GPS-based fitness application for the iPhone 3G and 3GS that has a variety of cool features to help you track your workout. (Click on image to enlarge)
The Handyman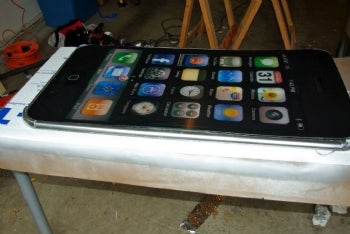 Regis Laborie in Oswego, Oregon wanted to create a realistic-looking iPhone costume without strapping a 42-inch LCD TV to himself (more on that later). Instead, Laborie created this costume with several criteria: Keep the cost under $50, build the costume using common or easily accessible tools, and keep the time investment down to about ten hours. (Click on image to enlarge)
The result is a sandwich-board style costume made of wood, plexiglass, foam pipe insulation, glue, tape, paint, clothespins, paper, and Styrofoam. The realistic front uses Christmas lights to illuminate the iPhone icons. See Laborie's blog for step-by-step instructions showing how he put the costume together. You can also download several image files from the blog to help you create your own iPhone costume.
The Real iPhone Costume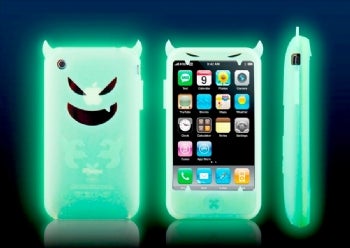 If you're dressing up for Halloween, why not give your iPhone its own costume too? Ideal Case is selling a demon-style silicone iPhone case that glows in the dark. The case is available in many different colors including yellow, green and orange. Pick up your own demon case online for $17.99. (Click on image to enlarge)
If you need more information, you can also check out this overly thorough review of the demon iPhone case on YouTube.
The Cheapest iPhone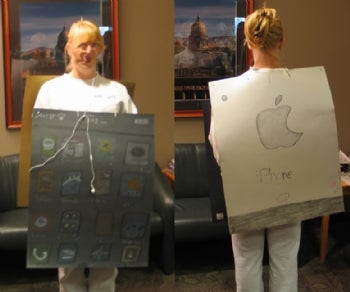 This iPhone costume will appeal to all you underachievers out there. All you'll need is some construction paper, string, and crayons. You'll still have to put in some labor since those iPhone icons won't draw themselves, unless there's already an app for that. (Click on image to enlarge)
If you want to take this underachievement to the next level, you could use iPhone image files, and glue some printed icons onto your construction paper. It would take you less time than drawing them, and would probably create a better overall look.
iPhone Couple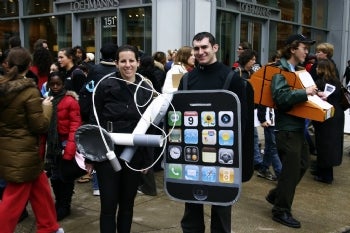 This iPhone couple was spotted on North State Street in Chicago by Flickr user travelmatt, just a few days before Halloween 2008. (Click on image to enlarge)
As far as construction goes, this iPhone costume is pretty good, but leaves a little to be desired. The icons look nice, but the iPhone itself is shaped more like the mythical iPhone Nano than the authentic Jesus phone. That being said, the earbuds were something I hadn't seen before. Nice touch, you two.
Most Adorable iPhone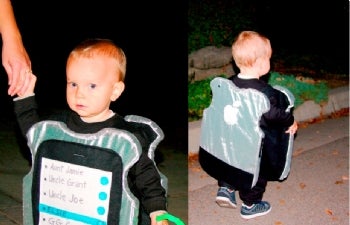 Meet Sebastian in his 2007 iPhone costume. What this costume lacks in iPhone accuracy, it makes up for in "awwww" factor. Sebastian's got a very special call list on his foam, felt and cloth iPhone including his aunt, uncle, and other family members. (Click on image to enlarge)
This photo comes courtesy of Sebastian's mom, Flickr user Smile and Wave.
The Slickest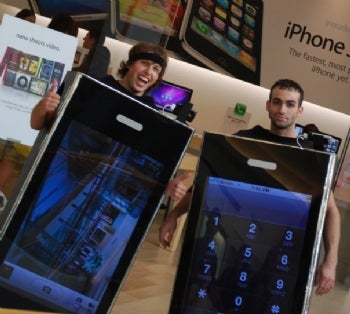 There are iPhone costumes and then there are crazy iPhone costumes. John Savio (Left) and Reko Rivera (Right) of Tampa, Florida decided to go all out this year and make the ultimate iPhone costumes. These guy literally took two 42-inch LCD sets and strapped them on. They also upped the ante, by hacking into the iPhone making it possible to create a real-time display of the iPhone interface on the LCD screen. (Click on image to enlarge)
The costumes are powered by three batteries each and can run for 4.5 hours before they have to be charged overnight. These iPhones weigh a whopping 85 pounds, and cost the guys about $2000 total. Savio and Rivera say they plan to enter every Halloween contest they can find to win back their investment. But even if they don't win back the money, the guys say they have no regrets.
If you haven't seen it already, you can watch these oversized iPhone 3GSs in action on YouTube.