It has been just over a week since Microsoft's low-key Windows 7 launch, and rumors are already circulating around the operating systems first service pack (SP).
Of course, as with any Windows release, the engineers at Microsoft get to work mending a variety of bug fixes immediately after it's retail debut. So reports that the OS' first service pack is on the way comes as no major surprise. Today's rumors regarding Service Pack 1 (SP1) come courtesy of Wzor, who detailed that a beta release of SP1 is expected to arrive sometime in January of 2010, possibly around the same time as the annual trade show CES.
Wzor went on to detail that beyond the relatively viable initial beta in January, a further two beta releases could be expected throughout the first half of 2010. Futhermore, Wzor believe that two release candidate updates will add to the service packs development roadmap, before the final version arrives. The completed service pack will then be made available to manufacturers in the late summer, with the concluding build being made available to end users via an update in the fourth quarter.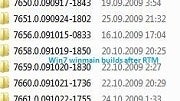 The majority of this report can be classified as just purely speculative for now, however Wzor have released an image showing the alleged folder stucture of SP1 to assist in solidifying their claims. In addition to this, Wzor have become somewhat infamous for their various leaks of Windows 7 during its beta stage.
Microsoft has yet to comment on the legitmacy of this report.
Follow GeekTech and Chris Brandrick on Twitter.