Motorola's Droid has a tough game of catch-up to play, but not as tough as what faces Palm's Pre as both challenge Apple's iPhone. Longer term, this may be a two horse race, with Android winning in the end and BlackBerry still chugging along.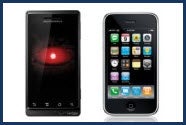 That does not mean Apple actually "loses," mind you. There is room in the market for at least two and probably three smartphone platforms. Think Android, Apple, and BlackBerry. (Here is our Droid vs. iPhone comparison report).
That leaves Palm and Microsoft and Linux and whatever else shows up in trouble. Microsoft should find a way to cut its losses. Palm may find the rug pulled out from under it by this time next year, if the Pre's fortunes do not dramatically improve.
I don't have hard research to back-up these conclusions, but I've spent 25 years reporting on computers and technology and here's what I think:
The Droid is has had a spectacular launch, better than the Palm Pre; though initial sales have yet to occur. The Pre seems to be relegated, at least for now, to the shadows, which is a hard place for a smartphone to survive.
The Google name is hard to beat and the company seems to be using Android to launch its next-generation applications. This will upset some third-party developers but, from Google's perspective, it cannot be helped.
Customers are happy when Google adds value without adding expense. Its Maps Navigation Service is, right now, perhaps the single best reason to choose a Droid over an iPhone.
Maybe I lack imagination, but I cannot figure out what Palm would have to do in order for the Pre to become a big success. Summer was the Pre's window and Palm missed it.
Developer support is critical and it is unclear how many platforms smartphone app creators are willing to support. Palm loses if the number isn't at least four.
BlackBerry is benefitting, I think, from a huge installed base and is largely seen as being outside the current fight. As a rule, I don't think any handset without a "real" keyboard can be considered a BlackBerry killer. Score one for Droid and even the Pre Pixi handset.
Android has had a slow ramp-up, largely thanks to so-so hardware. There is a danger that all Android hardware will be lumped into a single category by potential customers and that the large number of Android handsets expected to become available will be more confusing to customers than helpful.
Google needs to help would-be smartphone customers by explaining how to tell if a given application is appropriate for a particular handset. There may need to be some distinction drawn between the various classes of Android handsets, perhaps with a naming scheme similar to what AMD has done with its Vision processor family.
Feedback from readers makes it clear to me that Android does not have to match the iPhone application-for-application to be competitive. Your e-mails cause me to believe that application parity, as a practical issue, will come earlier than next summer, as I have previously imagined.
Apple will have, for the near future, iTunes, and the Music Store as an advantage, but Google ought to be able to change that. Whether it will organize the Android music business, or rely on third parties and a mishmash of solutions, is unclear.
Google and its partners would do well to begin promoting applications that are available for both Android and iPhone, as a way to calm the nerves of anxious would-be Droid purchasers.
Apple's iPhone, the current market leader, has become vulnerable. Google's Android operating system, now at its 2.0 release, is growing legs. If there are really 40-50 Android phones available by next summer, as some predict, the platform could be much more interesting than iPhone.
To compete, Apple needs to rely on its ability to completely concentrate on a single hardware/software combination. People are very clear about what "iPhone" means, less clear about the meaning of "Android" or "Droid."
Apple is playing catch-up in some areas, but has the potential to leap ahead by concentrating on things Google is not likely to do. Apple must take advantage of being able to design and build its own hardware, operating system, applications, and shopping.
At the same time, Apple must reject the Steve Jobs dogma that can make the iPhone seem less competitive. Sure, a removable and replaceable battery would break the iPhone's lovely lines, but is that such a big deal?
The Droid has its work cut out for it, but the road is not as difficult as it may seem. The highest peak of smartphone technology remains Apple's to lose, but if Steve and Co. fail to aggressively respond to Android–and not just with advertising–that loss is a real possibility.
David Coursey tweets as @techinciter and can be contacted via his Web site.