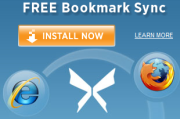 I'd argue that the first thing a user wants upon migrating to a new PC–or, in this case, a new operating system on the same PC–is his bookmarks.
Fortunately, that's perhaps the single easiest chunk of data to move as part of our "slow" migration to Windows 7. All you need is Xmarks.
Available for both Firefox and Internet Explorer, Xmarks automatically and effortlessly synchronizes your bookmarks between PCs and the Web.
If you were already using it, just install the program in your new Windows 7 partition, sign into your account, and presto: All your bookmarks will magically appear in your browser. (All your Web-site passwords, too, assuming you configured the tool to sync passwords.)
If you weren't using Xmarks before, start by booting back into your previous version of Windows, installing Xmarks, and setting up an account. (Don't worry, it's free.) Then you can jump back into Windows 7 and install Xmarks there.
There are other ways to copy bookmarks, but this is by far the fastest and easiest–and you get the added benefit of having a password-protected copy of your bookmarks on the Web, accessible from any PC.