Relic's Dawn of War II was and remains the most well-executed tactical real-time strategy game going, a breakneck bedlam-draped Warhammer 40k paean that folds Company of Heroes' scrub-sliced battlescapes into squad-scale, obstacle-riddled pitches. Whether challenging the brutally adept artificial intelligence on skirmish maps or testing your mettle online, domineering a map requires thinking on your fingertips (hotkeys needing digits, not heels or toes) plying only what you have to hand in terms of squad leaders and commander units. Back-building tends to benefit distraction tactics (light squads of low-cost fodder), but success lies in managing your field units in the field, instead of loosing, leaving, losing, then routinely reconstituting them.
Next spring, the game will expand with a supplemental campaign titled Chaos Rising, which–you guessed it–involves "chaos rising" somewhere along the distant interstellar fringes of the Imperius Dominatus (all without the aid of either the Necronomicon or yeast!).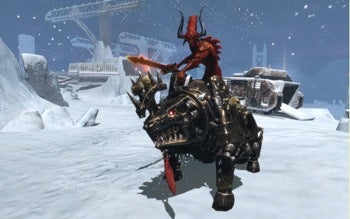 What's it bring to the table? In narrative terms, a "long lost frozen ice planet" that's reappeared from the magic-deformed Warp in subsector Aurelia (setting of the original game, and impossible to locate in any of the official Games Workshop source books–I've tried). You're once again commandeering the Blood Ravens, this time defending your turf from Chaos Space Marines, ostensibly wilier, better armed versions of the original's biomass-flinging Tyranids. Yep, they'll also be playable in multiplayer mode.
Since the level cap's been raised from 20 to 30, you can unlock new abilities and broaden your skill base or simply pump more into specialization. "Will you remain steadfast to the Emperor or risk heresy to gain new dark and destructive powers?" teases the promo site, implying you can flirt with "dark side" abilities, and indeed you will. A morality gauge now meters actions taken and items plucked from containers or corpses, seesawing between "purity" and "corruption" extremes and dictating what's available to hand in terms of abilities at any given moment.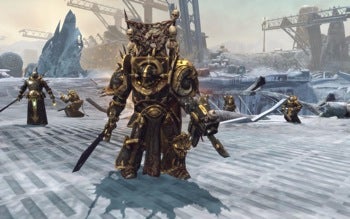 You'll also have a chance to explore more nuanced campaign maps with less repetitive scripted objectives against reinforced armies of Orks, Eldar, and Tyranids. The original's campaign wasn't as generic as some claimed (unless you played unimaginatively at lower difficulty levels, spam-slamming all the way, then blamed the game for failing to reciprocate) but it did tend toward "scrum-scrum-scrum-boss!" patterning as the campaign developed.
Here's the new trailer. It's fast-edited and effects-angled, predictably, making it difficult to suss the new stuff. The snip toward the end about 'slavery to the false emperor' ending should set 40k wonks salivating.
Follow me on Twitter @game_on