Mobile e-mail device maker Peek has partnered with Twitter to bring you the world's first dedicated Twitter device: TwitterPeek. The new handset lets you send and receive tweets and direct messages, follow new users, and view images sent via Twitpic. TwitterPeek features a 2.7-inch by 4-inch color screen, a full QWERTY keyboard, and no-contract nationwide unlimited wireless coverage.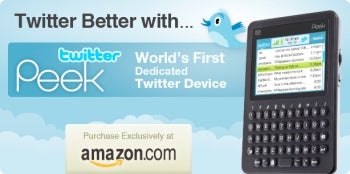 Available now from Amazon or TwitterPeek.com, this Twitter-only handset sells for $100. That price includes six months of free wireless service; monthly access will set you back $7.95 per month after that. Big spenders, though, can pay $200 up front for TwitterPeek and get lifetime wireless coverage.
What TwitterPeek doesn't have
From the sounds of it TwitterPeek leaves a lot to be desired. TwitterPeek allows you to send and receive tweets, but lacks a search function. So if plan on using this device to track tweets about your business, you will miss out on any conversations using hashtags–a user-created system of cataloging tweets by subject–or other conversations that don't include an @reply to your company's Twitter account.
TwitterPeek is also lacking a Web browser, which means you'll be left out of any conversations happening around a particular blog post or news item. So a tweet like, "Dog Lovers – you'll Dig this! bit.ly/4prwrb" will be useless on TwitterPeek. Plans are in the works to allow you to preview Web pages within TwitterPeek, but that will still leave the device crippled if you won't be able to get a complete view of what others are looking at.
Better Alternatives
With so many other Twitter-capable devices out there, I have to wonder about TwitterPeek's appeal. You can already get Twitter on any smartphone or feature phone with Internet access, and you can also send and receive tweets using SMS.
If you don't want to be stuck with high data fees typical of most smartphone plans, there are cheaper alternatives from Peek such as the Pronto for $60. This email-centric device will also let you send text messages, and access Twitter via Ping.fm. It's still a stripped-down device, but at least you can use it for three different functions, all with a cheaper price tag.
So what do you say? Has TwitterPeek got you excited? How many of you out there plan on grabbing one of these devices? If I had to guess, I'd say not that many.