How much would you pay for a mobile device that does only one thing: Send and receive Tweets? A company called Peek is betting $199 and has created just such a device.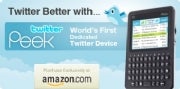 Described as the world's first dedicated Twitter device, the TwitterPeek offers a QWERTY keyboard, color screen, and measures 2.7 x 0.4 x 4 inches. It was introduced on Tuesday and is not unattractive.
The $199 price includes a wireless service plan for the life of the device. A $99 price includes 6 months of service, which then costs $7.95-a-month thereafter. The always-on device promises four days of battery life "in normal use" and promises nationwide wireless coverage.
The device supports a single Twitter account at a time, allowing users to tweet, reply, retweet, download followers, and send direct messages to other users. Access to TwitPics is also possible using the TwitterPeek's "view content" option.
Who needs this device? That's a fair question. Smartphones already have Twitter applications, so this is not a great second or third device to carry around.
Presumably, some people are using Twitter as an e-mail replacement and do not want the monthly expense associated with smartphone use. Peek also makes similar e-mail only devices, which seem to address a much larger market (and support five accounts at a time).
The TwitterPeek is available exclusively from Amazon, which also sells the Peek Pronto e-mail device for $299, including a lifetime service contract.
My take: There are products which seem to fulfill no real need. This is one of them.
David Coursey tweets as @techinciter and can be contacted via his Web site.