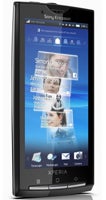 As expected, Sony Ericsson announced an Android-based Xperia handset on Tuesday. Known as the Xperia X10, Sony's first entry in the Android space introduces a new Wireless Stereo Headset, along with a new user interface platform called UX and new apps dubbed Mediascape and Timescape.
According to specs provided by Sony, the X10 will run the Donut edition of Android, version 1.6, as opposed to the newer 2.0 (or Éclair) edition. The X10's very long list of features also includes a 4-inch WVGA TFT touchscreen, an 8.1 megapixel camera with up to 16x digital zoom, stereo Blueooth (A2DP), Wi-Fi, and GPS.
Sony says the X10 will include location-based services, including A-GPS, Google Maps, and a free trial version of Google's voice-enabled Wisepilot turn-by-turn navigation. Sony's statement does note, however, that the turn-by-turn navigation "may not be available in every market."
Sony Ericsson released a video showcasing the X10:
Another video, which my colleague Ian Paul wrote about on Monday, shows off the X10's design.
Videos leaked earlier highlighted the X10's user interface, codenamed Rachel, along with touch-based menu items at the bottom of the screen called Timescape, Mediascape, Messaging, and Dialer. While Timescape's functionality seemed unclear in the video, Sony released a press statement on Tuesday that described Timescape in a as an application that "manages all your communication with one person in one place." More specifically, Sony said that Timescape lets you check out your Facebook, photos, e-mails, and text messages in an integrated way.
Mediascape – a new app for accessing content from a single spot – does feature integration with SE's Play Now online store, along with media stored on the device and online content from services like Flickr.
An onboard organizer comes with a new "infinite button," for "guiding you through the connected world," along with an office suite, world clock, alarm clock, calculator, calendar, flight mode, and a phone book with dialer.
With Motorola's voice navigation-enabled Droid slated for US availability from Verizon Wireless on November 6, Sony was vague about availability of the X10, saying only that its Android phone will be obtainable in "selected markets" of the world starting in the first quarter of next year.