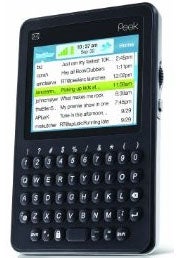 Gee willikers, have you heard? They've just invented a new device that can let you use Twitter, even if you aren't at a computer! This could be the biggest thing in made-to-be-obsolete technology since the standalone Wi-Fi text messenger!
Okay, okay…I'll set my 50s-style faux-enthusiasm aside for a moment to explain. A company called Peek has just announced a new gizmo known as the TwitterPeek. The device lets you read and write tweets on the go, and — well, that's actually it. You pay a hundred bucks for the thing, then another $8 a month on top of that for the standalone Twitter access. (You can also opt to buy a $200 model that includes service for the lifetime of the device.)
The company's selling point is that not everyone has a Web-enabled smartphone, and the TwitterPeek could be a more affordable way to keep connected with the Twitterverse. But is Twitter by itself reason enough to buy a $100 standalone device and pay a monthly access fee? Even if you don't want to cough up the extra $22 a month that could get you unlimited data on your $100 smartphone, there are still plenty of other more practical options.
But hey, maybe I'm missing the big picture here. Maybe we'll all soon be carrying around individual devices for every single service we need. Just think of the possibilities:
• The iRumor: Forget your other Internet-connected contraptions — for the low price of $59.95 (plus $5.49 a month), this device will automatically check a dozen different Mac blogs to bring you the latest Apple-related rumors every hour!
• iRumor Plus: The expanded iRumor Plus doesn't stop with Apple. It pings TechCrunch at 30-minute intervals to collect every unsubstantiated tech rumor, Apple or otherwise, published on the Web.
• The FaceBook: Keep in touch anywhere with this book-like gadget that does nothing but show your Facebook news stream (and let you update your status with remarks about how cool your new FaceBook gadget is).
• The TwitTrend: An even more economical version of the TwitterPeek, the TwitTrend connects to Twitter but displays only trending topics such as #LoseMyNumber and #HesNotThatIntoYou.
• The Tap Tap Metallica Player: Why shell out the cash for an iPod Touch when you can buy Tap Tap Revenge: Metallica on its own dedicated device? (Note: Metallica may end up suing itself over this thing, so buy at your own risk.)
• The Windows Mobile phone: Get basic phone functionality without all the bells and whistles by picking up a Windows Mobile phone. You'll be able to make and receive calls and texts, even connect to the Internet and download exciting passable applications from the Windows Mobile Marketplace. You'll almost think you're using one of those popular smartphone devices everyone else has!
Wait a minute…that last one actually does exist. But still.
JR Raphael swims in satire at eSarcasm, his online geek humor paradise. You can keep up with him on Twitter: @jr_raphael.