You've probably seen Verizon's "There's a Map for That" ads on TV. The ads use two maps to compare the coverage area of Verizon's 3G wireless networks with AT&T's. Verizon's 3G network is obviously available in far more places.
The first time I saw the ad, I thought: "Ooh that's gotta sting." And apparently it did: AT&T today filed a lawsuit against Verizon in a Georgia court over the ad.
AT&T doesn't dispute that map's portrayal of the reach of its 3G coverage, but rather complains that the white or blank areas outside the blue 3G splotches on the AT&T map imply that there's no coverage there. This is despite the fact that large white captions appear beneath both maps saying that "3G" networks are being compared.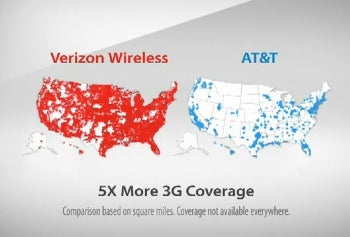 AT&T says in its complaint: "In October, 2009, Verizon embarked on an advertising campaign designed to mislead consumers about the scope of AT&T's wireless coverage."
To support that conclusion, AT&T commissioned a study of people in a shopping mall who had seen the ad. AT&T says "almost one in four" thought the ads meant that AT&T provided no wireless coverage in many areas of the country. The lawsuit does not state how many people were interviewed, nor does it explain how the questions were posed.
As with many public action by large corporations, you have to swim through the spin and posturing a little bit in order to get to the company's real motivations and goals.
In this case, I believe AT&T is indeed being harmed by the Verizon ads, but not for the reason it says it is.
For AT&T it's all about the tagline: "America's Fastest 3G Network." (This claim is also based on wireless performance research the company itself commissioned.) The lawsuit filed today against Verizon is just the latest example of the company's profound sensitivity to challenges to that claim.
Verizon's map comparison sends a striking message about the availability of–and investment in–the two companies' networks, and it's a message that makes AT&T appear far behind in 3G coverage. AT&T is probably worried that the Verizon ads may cause consumers to (reasonably) ask: "Why should I care that AT&T's 3G network is supposedly the fastest if it's only available in a fifth of the area that Verizon's is?" or "How could AT&T's 3G network really be the best if Verizon's is clearly so much bigger?"
So AT&T is looking for a way to prevent consumers from seeing or hearing Verizon's "There's a Map for That" message, and being influenced by it. To do this they've chosen to attack in court an aspect of the ad that could be percieved as "confusing" to consumers, in hopes of getting an immediate restraining order. That would immediately stop the airing and printing of the Verizon ads. The ads could then remain off the air and out of print while the case was argued ad nausium in a variety of courts over months or years. Winner: AT&T.
But in order to get the injunction, AT&T must convince the court, among other things, that the injunction would not "disserve the public interest." On this point, I think the court might side with Verizon.
Despite AT&T's mall survey, I think most consumers know (at the very least) that a 3G network is a newer, faster kind of wireless network–not the only kind of wireless network. After all, AT&T and the other wireless providers have crowed endlessly about the virtues of the cool new 3G networks and services. Most importantly, consumers have a right to know where those networks are (and where they aren't) available, before they buy a phone and sign a two-year service plan. Further, the courts should not force service providers to couple exhibits of 3G coverage with exhibits of lesser networks, as AT&T, ostensibly at least, seems to be demanding.
And in light of all of AT&T's PR fumblings this year, its running to the court over an ad just looks bad. Today's news will certainly not make iPhone owners feel any better about their AT&T coverage contracts — but AT&T biting the bullet and investing heavily in the speed and scope of that network just might.