Microsoft has decided to pull the trigger on its most significant refresh of the MSN homepage in almost ten years. There is one huge problem with the new design that I just can't believe: I actually like the new MSN. Ever since I installed Vista and, soon after, swore to never say another kind word about Microsoft along comes this new MSN look. (I haven't installed Windows 7 yet)
The new MSN, now in beta preview, is less customizable, but also less cluttered than iGoogle, and MSN is more streamlined and easier to use than the newly redesigned Yahoo homepage. So the new MSN isn't perfect, but it's pretty good as online portals go. Here's what I like, and what I think should be improved with the new MSN.
Facebook and Twitter Integration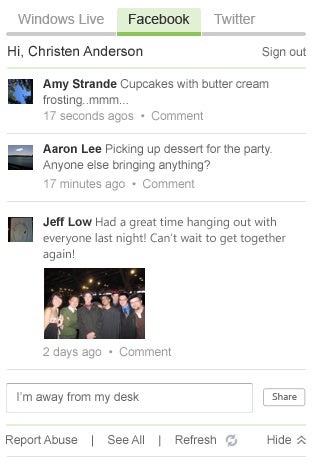 Given the popularity of Facebook and Twitter, it's no surprise that one of the major additions to the new MSN is integration of both. The Facebook widget is pretty good, and gives you the basic status and account updates you'd expect from an external Facebook notifier.
MSN's Twitter integration, on the other hand, leaves a lot to be desired. If you're going to include Twitter on your homepage, you should at least make it function like a barebones Twitter client similar to something like TwitterFox (now Echofon) or the Flock browser's Twitter sidebar.
MSN doesn't have any significant Twitter functionality; instead it's basically a Twitter message viewer with the option to update your own status. Lacking basic things like an optional column view of "@reply" or direct messages, or even the ability to respond to tweets with an "@reply" button.
The other problem is the Twitter feed doesn't update automatically, and requires you to manually update instead. One final quibble: if you're typing in an update, you can't navigate away to copy a URL. If you do, MSN's Twitter client will reset itself and you'll have to retype your message.
Hotmail
E-mail integration is of course an obvious feature for the new MSN, but I'd like to see the option to view more than just Hotmail. This will probably change when the new MSN officially rolls out early next year, according to All Things D.
Local Weather and News
The new MSN has a great seciton for local news and weather, which is another obvious, yet great addition. But I'd like the option to automatically set this section based on my computer's surrounding wireless access points, the way Google's My Location feature does. That would be a great option to automatically update you on your new surroundings when traveling, but I'd want to be able to manually change the local settings in case I want to keep an eye on things back home.
Is Microsoft on a roll?
Despite these quibbles, I have to say I'm impressed with MSN's new design. I like the overall functionality of the new site, and its clean look is a welcome change from the bloated 90s-style version of the current MSN. Microsoft also says it plans to roll out the new clean look across its other MSN properties over time.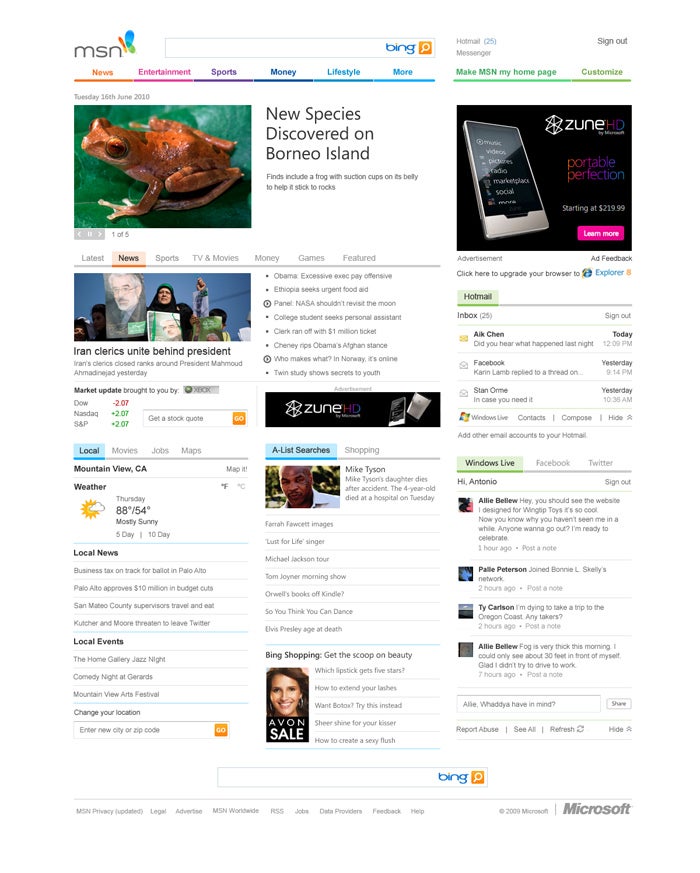 After years of hating Microsoft's online presence, and loving Google's, I'm slowly being won over by Redmond's new products. With MSN's new redesign rolling out early next year, the capability to sync files across multiple computers with Windows Live Sync for both Mac and PC, 25GB of free online storage with SkyDrive, a revamped search engine, and the upcoming Microsoft Office Web Apps, there's really only one thing keeping me away from jumping to Microsoft services full time, and that's e-mail. Gmail is simply far more functional and customizable than Hotmail, and I don't see that changing anytime soon.