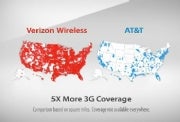 The current court battle between the nation's two largest wireless carriers, AT&T and Verizon Wireless, involves issues that are more than just a matter of black and white (or maybe that should be blue and white?).
The dispute seems straightforward enough on the surface. Essentially AT&T claims that the Verizon Wireless ads for Motorola's Droid are misleading, and that the blue-and-white maps used in the ads falsely indicate that AT&T has gaps in its wireless coverage.
More specifically, AT&T charges that Verizon's ads wrongly suggest that the white-colored coverage areas outside of AT&T fast 3G service get no coverage whatsoever from AT&T — when, in fact, most of these are covered with slower 2G service.
But the plot thickens. First of all, Verizon and AT&T aren't the only wireless carriers involved here. Verizon is also publicizing maps that wholehearte
dly diss T-Mobile, the first US carrier to adopt an Android phone, along with Sprint, the only US carrier to step beyond 3G to even faster 4G coverage already. Will we see a wider lawsuit later, or are T-Mobile and Sprint simply less bent out of shape about the ads?
By the way, Verizon's maps also quite conveniently leave out 4G, a higher speed level that neither AT&T nor Verizon is expected to reach until 2010. Meanwhile, Sprint this week added ten more cities to its finally emerging 4G WiMax coverage.
So if there's going to be a multicolored map out there, it really needs more colors, doesn't it? Maybe red could be used to represent 4G? Or what about purple? But even if Verizon — or anyone else — ever put together a more multihued map, it'd need to be redrawn each time one of the networks steps to a higher speed in a new metro area. Wow. That could call for a lot of map-making. (Where are Google Maps in all of this? Just kidding here.)
AT&T also says its research shows that a lot of folks misunderstand Verizon's maps. According to AT&T, when consumers view it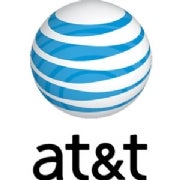 s competitor's maps, many leap to the conclusion that AT&T leaves vast expanses of the US untouched by any wireless coverage, even 2G.
But do most consumers really care about 2G, 3G and 4G anyway, and do they know the difference? I don't know of any research results that answer these questions, which are more widely significant.
Verizon's Droid ads are so unusual that it's quite likely they'll stick in a lot of people's minds for some time. But will the ads really spur many current iPhone users to dump their devices, pay hefty contract cancellation fees to AT&T, invest in Droids, and ink new two-year 3G service contracts with Verizon? I think not, particularly with 4G service coming down the pike.
I predict that Verizon's pitch will be most successful with two groups: brand-new 3G users, who've never bought an iPhone anyway; and a relatively subset of current iPhone users that are particularly mobile. If you spend most of your time in a limited geographical area — whether that's New York City, the Silicon Valley, or Orlando, Florida — do you really care whether AT&T will give you 3G coverage at a Colorado ski lodge, or a convention at a dude ranch in some other remote locale?
These heavily mobile folks are also especially likely to be lured by the Droid's built-in, ready-to-use, and Google Maps-integrated turn-by-turn GPS voice navigation — which to me seems like one of its biggest selling points. But Verizon's ad blitz is only going to last if the courts let that happen, anyway.