Good news for Droid customers: Verizon says it will support tethering beginning early next year. Tethering is something the iPhone can do, but AT&T doesn't support, though has said it will someday.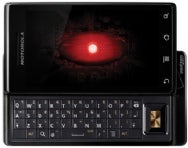 Gearlog reports that Verizon said its "Broadband Access Connect" plan will add tethering to the Droid's list of features "sometime in early 2010." But, it will also add something else: Which Gearlog guesses will be a $15 monthly tethering fee.
Tethering allows the handset to be used as a wireless modem for a PC.
Be careful how you use the feature. Wireless carriers typically include 5GB in monthly wireless modem plans. Extra megabytes can be expensive.
Apple's iPhone 3GS also supports tethering, but AT&T has yet to announce when it might be available. In early October, an AT&T spokesperson told the Wall Street Journal, "For tethering, we need to do some additional fine tuning to our systems and networks."
That is pretty much what AT&T has been saying since the iPhone 3GS introduction back in June. At that time, the carrier promised the new MMS feature would become available in late summer, though it didn't arrive until late September.
AT&T has never given a date–certain or otherwise–when tethering might become available. With Verizon talking "sometime in early 2010" that might help AT&T narrow down its tethering timeframe, too.
David Coursey tweets as @techinciter and can be contacted via his Web site.