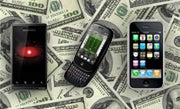 Verizon Wireless is launching its Android-based Droid handset on Friday, and already confusion is swirling about how much the new handset will cost you. PC World's sister site, InfoWorld, reported on Tuesday that it will cost an extra $15 to use Droid's built-in Microsoft Exchange ActiveSync feature. This started a frenzy of other reports around the Web accusing Verizon of "nickel and diming" its customers with service fees. But is the Exchange cost true, and more importantly how much will the new Droid cost you versus competing phones like the iPhone on AT&T or the Palm Pre on Sprint?
With all the confusion out there, I've put together a chart comparing these phones to set the record straight. But before we get to the cost comparison, let's review a few things about Droid and Microsoft Exchange.
What is Exchange Support?
Many corporations and other businesses take advantage of features found in Microsoft Outlook that allow you to receive your e-mail on a mobile device and share information like contacts and calendar appointments with other users on your company's network. But to do all this, your company has to be running a Microsoft Exchange server, a physical piece of equipment that runs these services for a closed network of users. This is very different from equivalent Web-based services anybody can sign up for and access for free using their mobile device or home computer.
Business vs. Personal Use
So will it cost you an extra $15 to use Exchange on Droid? I spoke with Verizon spokesperson Brenda Raney about this issue, and the answer, it turns out, is yes and no. Just like any other wireless network there are different prices for business and personal accounts. On Verizon, data access (Web and e-mail) costs personal users $30 a month and business users pay $45 a month. If you're a business user, with a phone provided to you by the company you work for, then yes it is costing an extra $15 to use Exchange Active Sync support on your phone. But since your company is paying the access fees, the cost doesn't directly impact you, the end user.
On the other hand, if you're a personal user paying $30 a month, you could, in theory, still use Exchange ActiveSync since the service is built-in to Droid's operating system, Android 2.0. Personal users can access Gmail through ActiveSync, but only if you have an iPhone, Windows Mobile phone or a handset running the Android 2.0 operating system, like the Droid.
And now, the comparison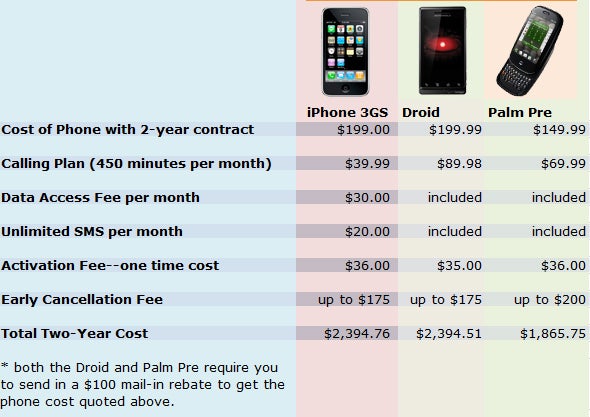 I based my cost comparison on an individual, personal use customer, buying a handset under a new two-year contract. I assumed the person would want 450 anytime minutes, unlimited Web and email access, as well as unlimited SMS. These costs also factor in each carrier's activation fee, but remember this cost is often waived during special sales promotions. One last thing I should point out is that these costs don't factor in each carrier's sneaky fees like regulatory and administrative fees that range from ninety-nine cents on Verizon to as much as two dollars on Sprint.
Sprint's Palm Pre comes in the cheapest with estimated plan costs at $1865.75. The Droid and the iPhone are pretty close, but Droid wins second place with a total plan cost of $2394.51 and the iPhone coming in at third with a $2394.76 price tag over two years. But don't forget that both the Droid and the Pre cost you an extra $100 at the cash register, because you have to send in a $100 mail-in rebate to get the advertised price. That doesn't change the overall price of these three phones, but it does affect how much you pay when you purchase your device.
If you're worried about early termination costs, I looked at that too. All three carriers now offer pro-rated terms for their cancellation fees. Sprint will ding you $200 if you cancel during the first five months of your contract, but reduces that cost by $10 every month after that to a minimum cost of $50. AT&T says it will cost you at least $175 to bow out of your contract, but reduces that fee by $5 for every month of service. As for Verizon Wireless, the company's Website says it will charge you up to $175, but doesn't give you much information beyond that. However, there is a rumor that Verizon might be changing this plan effective November 15, according to Boy Genius Report. Under this plan, Verizon would reportedly charge you up to $350 in cancellation fees with a $10 reduction of that cost for every month of service. Remember, this new cancellation fee is only rumor at the moment, and Verizon had not responded to my inquiry at the time of this writing.
Check out the comparison chart for a side-by-side comparison of these three phones.
Connect with Ian Paul on Twitter (@ianpaul).