Seemingly unfazed by legal action from The Beatles' music label, an obscure online retailer in California continues to offer downloads of the Fab Four's entire music catalog. As of Wednesday afternoon, the music site BlueBeat.com was still selling MP3 versions of full Beatles albums, as well as individual tracks.
EMI Group on Tuesday filed a copyright violation suit against BlueBeat in U.S. District Court in Los Angeles. The London-based music company charged the music website with selling Beatles' albums and songs without permission. BlueBeat also lets users listen to tracks, including Beatles tunes, without buying them.
Apple Corps Ltd., the Beatles' holding company, has yet to allow any online music service, including industry behemoth iTunes, to carry the Fab Four's music.
BlueBeat's bargain-basement prices, such as $3.25 for "A Hard Day's Night" album, and 25 cents per Beatles track, will certainly draw attention to the site — and maybe a few buyers — before a court forces it to cease its shenanigans, which undoubtedly will happen soon.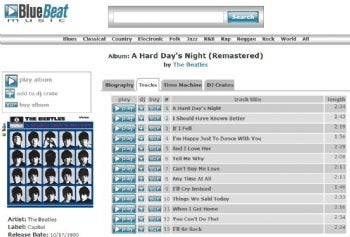 Is this a publicity stunt? Sure seems like it. BlueBeat's caretakers — the site is a subsidiary of Media Rights Technologies in Santa Cruz, Calif. — are no doubt aware of copyright law, and if they aren't, they will be shortly. (BlueBeat hasn't responded to PC World's request for comment.)
It's highly unlikely that BlueBeat has any legal ground to stand on here. And it's likely the site is milking this Beatles stunt for a few days of media coverage. Hey, it's cheaper than buying ads.
On a related note, will the BlueBeat stunt light a fire under Apple Corps and EMI, spurring them to license the Beatles catalog to reputable online music sites? Next month's release of a collection of remastered Beatles albums on a USB drive is a good start, but it still ties the Fab Four's songs to a physical format.
The longer The Beatles' catalog remains verboten online, the greater the opportunity for tricksters and pirates to offer it illegally.
Contact Jeff Bertolucci via Twitter (@jbertolucci) or at jbertolucci.blogspot.com.