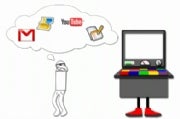 Google showed Thursday it's getting more serious about privacy when it launched a tool called Google Dashboard that aims to give you more control over your personal data stored on Google's servers. From your Google Dashboard you can view the company's privacy policies, easily access your most recent activity for each Google service you use, and manage settings for those services. My initial impression is that Dashboard is a quick and easy way to get greater control over your Google Account activity, and even clean up any services you may have forgotten about.
Accessing the Dashboard
To get into Google Dashboard, sign into your Google Account, click on the settings link at Google.com, and select "Google Account Settings." You can also click on "My Account" from your iGoogle page. Or just follow this link. This will take you to your Google Account page where you select "View data stored with this account" under "Personal Settings." Google will then ask you to enter your Google Account password again as an extra security measure before redirecting you to your Dashboard.
It should also be noted that from your Google Account page you can also see a list of all the Google services you use, but Dashboard gives you more information about what kind of data you have stored on each Google service.
Dashboard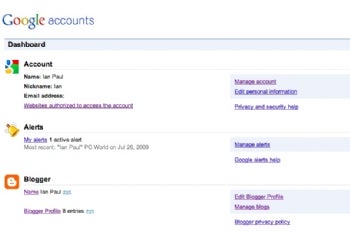 When you land on Dashboard you will see a list of your Google services on the left-hand side. This list contains information about the Google services you use including your recent activity and basic statistics. Under Gmail, for example, you can see you how many messages you've sent, how many conversations are in your inbox, the number of Gmail chats you have saved, and even how many items are in your trash.
The statistics feature in Dashboard was particularly useful for me allowing me to take control of various services I hadn't used for a long time. For example, I'd completely forgotten that I'd signed up to use the social features on a few Websites using Google Friend Connect. But since I don't really visit those sites, or use Friend Connect, I was able to quickly navigate to my settings for this service and "unjoin" my Friend Connect Websites. I also noticed that Google Latitude had access to my Google Account information, but since I don't really use Latitude I easily revoked access for that application as well.
On the left side of Dashboard, you will see several links for managing your settings for each service and links to Google's privacy and help pages. Gmail in Dashboard, for example, lets you navigate directly to controls for your chat, security and general settings.
What's Missing?
While Google Dashboard looks like a handy tool, there are some services still missing. You can find information for Gmail, Google Docs, Calendar, Contacts, Blogger and more. But other popular services absent from Dashboard include Maps, Wave, Chrome Bookmark Sync, Google News, and business-related services like Google Analytics and AdSense. Google says it plans on integrating all Google services into Dashboard in the future. A company spokesperson told me that Google Video and Checkout should show up on your Dashboard in the next few days, and other services will begin to appear after that. Google also plans to integrate future products into Dashboard as they are released.
Dashboard for all?
Dashboard is an informative way to see what kind of data you have spread across Google's Web services. It also got me thinking that other online service providers should consider releasing a Dashboard-like product. Microsoft, for example, has similar services to Google including Bing Search, the beta version of MSN.com, Hotmail, Windows Live Sync, the upcoming Microsoft Office Web Apps and more. Windows Live does have an "all services" list that you can see, but it lacks the statistical overview that Google Dashboard has.
On the other hand some social networks already offer similar functionality to Google Dashboard. Facebook, for example, lets you edit which sites have access to your social networking account on the Applications Settings page (select "authorized" from the drop-down menu). Twitter also lets you see what services you are using under "Connections" on your account's Settings page.
Dashboard and Privacy
It will be interesting to see what privacy advocates have to say about Dashboard considering past criticisms leveled against Google involving Google Maps Street View, Google Latitude and Google Books.
One possible problem I found, for example, was the ability to tell my browser to save my account password for future visits to Google Dashboard. This means anyone could view my Dashboard if they hacked into or stole my computer. This is very different from Yahoo, which requires you to sign in every time you want to access your Yahoo Account information.
That being said, Dashboard does have some handy features that will help you maintain greater control over you data across Google's wide variety of services.
Connect with Ian Paul on Twitter (@ianpaul).