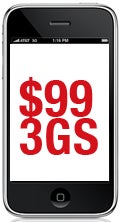 AT&T and Apple are preparing a cheaper iPhone 3GS just in time for the holidays to distract from the popularity of the Motorola Droid, according to sources quoted by a BoyGenius report. A cheaper version of the iPhone 3GS would come with only 8GB of storage and $100 off the original price tag, replacing the current $99 8GB iPhone 3G.
A $99 8GB iPhone 3GS would allow Apple to stop manufacturing the current 8GB iPhone 3G, which on the outside looks the same as the 3GS, but lacks some hardware features of the 3GS such as a speedier processor, more RAM, a digital compass and a better camera (3.2-megapixel).
We can't be sure of the success of the $99 8GB iPhone 3G sold alongside the newer 3GS models ever since this summer, but if the $99 8GB iPhone 3GS rumor turns out to be true, then the Verizon Motorola Droid is in for some stiff competition this holiday season.
The Motorola Droid is now on sale for $200 (after $100 rebate) and it already overshadowed the launch of other smartphone offerings from the likes of BlackBerry. The hype behind the Droid has placed the device as the most worthy iPhone 3GS competitor and it also comes at the same price as the 3GS (after the typical rebate, of course).
However, a $99 iPhone 3GS could easily tackle Droid madness and bring the latest Apple technology in the hands of those put off by the Droid's price. Credit has to go to the Droid, though, as even in the competition with a (rumored) $99 8GB iPhone 3GS, the Droid would have a better camera, free turn-by-turn GPS navigation from Google and 16GB of storage.
A $99 iPhone 3GS with 8GB of storage or a Motorola Droid — Which one would you choose? Sound off in the comments.
Follow Daniel on Twitter @danielionescu