[Author's Note: There has been some confusion around the Verizon Wireless unlimited data plan. Many comments have challenged the assertion that the Verizon unlimited plan actually has a limit of 5Gb. My information was derived directly from the Verizon Wireless Web site details for the unlimited data plan. I followed up extensively with Verizon Wireless public relations to resolve the issue and was finally able to determine that the information on the Web site was out of date.
Verizon public relations explained in an e-mail that "the online version isn't what customers are getting these days" and followed up in a subsequent e-mail to say, "The web site is scheduled to be updated but the team is still doing a review of the site so any changes will be made to a number of documents/policies, etc. that have changed," and forwarded a PDF to me of the revised unlimited data plan. The information on the Web site has been updated an no longer reflects what I saw when researching the article. While the wording of the new plan is not as specific about the conditions, it does still state, "We reserve the right to deny, modify or terminate service, with or without notice, to anyone we believe is using Data Plans or Features in a manner that adversely impacts our network."]
The Droid hits the streets today. After all of the hype around Verizon's marketing efforts, and generally favorable reviews of the Motorola Droid, users that rush out to get the new device may be in for a shock. The Droid does tethering (or at least it will very soon), but the cost will surprise people.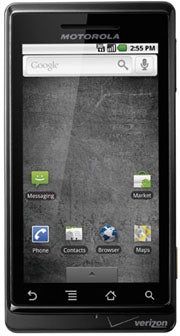 At first glance, and based on initial reviews, the Droid seems to be a very capable device. It may or may not be an 'iPhone-killer', but it certainly seems to be the best phone Verizon has to offer as of today. The Android 2.0-based device will cost users $199.99 with a 2-year contract, with an additional $30 per month for the mandatory data plan to go with it.
That $30 a month buys you an 'unlimited' data plan that has a monthly cap of 5Gb. Clearly, we are using different dictionaries to define 'unlimited'. Something got lost in translation somewhere.
Droid users will soon be able to use the device to tether though, something the iPhone is not capable of. Tethering allows the mobile device and its data connection to be used as an Internet connection for another system like a laptop. Verizon has confirmed that tethering will cost you though–an additional $30 per month for an additional unlimited data plan that is also limited to 5Gb. So, if you want tethering you will pay $60 above and beyond the monthly contract for service for an 'unlimited' 10Gb of data per month.
Verizon isn't stopping there with the sticker shock either. It also announced that as of November 15 the early termination fee will be doubled for high-end devices like smartphones (a.k.a. the Droid). Users who cancel out of the agreement before the two years are up will be hit with a $350 bill.
But wait, there's more! That $30 a month data plan grants you the ability to use an 'unlimited' 5Gb of data…as long as that data doesn't come from a Microsoft Exchange email server. If you want the privilege of connecting with an Exchange email account you have to pay $45 a month for the 5Gb of unlimited data.
Verizon points out the many things lacking in the iPhone in the iDon't ad campaign. But, AT&T users can get an iPhone starting at $99 with a 2-year contract and a $30 per month data plan. The iPhone doesn't have tethering and AT&T hasn't announced any intention to add it any time soon. But, the $30 a month unlimited data plan actually doesn't have a limit (go figure).
Google has developed a capable operating system platform with Android. Motorola has built a solid device around that operating system with the Droid. The Verizon marketing department has captured the attention of the public and created a buzz with the 'There's a Map for That' and 'iDon't' ad campaigns.
All of those efforts combined point to a successful device launch capable of going head-to-head with AT&T and the Apple iPhone. But, Verizon seems to be doing everything it can to make the Droid as unappealing as possible by nickel and diming customers so that actually using it is not cost-effective.
Tony Bradley is an information security and unified communications expert with more than a decade of enterprise IT experience. He tweets as @PCSecurityNews and provides tips, advice and reviews on information security and unified communications technologies on his site at tonybradley.com .