The Droid invasion landed on Friday and so far the iPhone comparisons haven't stopped. Customers showed up for midnight launches to be first to get the new Android 2.0 device, and Verizon stores haven't had any issue burning through their inventory of the new phone. There is at least one other iPhone comparison that bears noticing, though–battery life.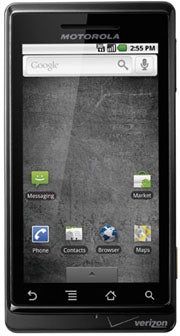 If you actually put the many functions of the Droid to use, your battery mileage will vary. The phone has to be powered up to be of any use beyond a glorified paper weight, so poor battery life could be an Achilles heel for the Droid invasion like the bacteria that took down the alien invasion force in War of the Worlds.
Mobile phone manufacturers like to talk about battery life in terms of talk time vs. standby time–essentially how long will the battery last if you are talking constantly, and how long will the battery last if the phone is just sitting there doing nothing. Fair enough for traditional old-school mobile phones, but smartphones are doing stuff even while they're just sitting there. Clearly we need a new way of considering battery life.
PC World senior editor Robert Strohmeyer rushed out and braved the crowd at the Verizon store to get his Droid on Friday. He took it home, charged it up until the Droid displayed a full charge, then set off for a busy day of work–new Droid in hand. He was surprised, and perhaps a little disappointed, when the Droid battery ran out of juice before he got home.
Strohmeyer says, "I can tell you that, so far, this thing consistently dies by 7:00 P.M. if I take it off the charger at 8:00 A.M. It definitely uses some serious battery. It's just a power-hungry phone."
If you're used to having a mobile phone instead of a mobile computing platform like the Droid, it may seem alarming that the device can't survive the day without a charge. The Droid battery life is not unusual, though, for smartphones and is really just indicative of the need to change charging habits to keep up with the needs of the device.
One site did a review specifically on the battery life of the Droid. For the study, the Droid screen brightness was maxed out, the screen was set to 'Never Sleep', MP3's were loaded and the media player was turned on to 'Repeat All Songs'. They even threw in an hour of Google Navigation usage while all of that was going on and still managed over 7 hours of battery life. Let's see your old flip-phone do that.
Clearly battery life is an issue. But, its an issue in the 'this device requires a shift in thinking about when and how to charge' way, and not in the 'what were they thinking when they designed this device with such short battery life' way. The iPhone has had its share of battery life complaints as well.
PC World ran a test of battery life comparing the iPhone to other smartphone devices. The test was well before the Droid came on the scene. The iPhone fared well, but fell just short of a couple BlackBerry devices. It would be interesting to conduct a new battery life comparison including the Droid and other smartphone devices. In fact, battery life tests like this should be done on a regular basis and real-world usage of the device should be considered rather than 'standby time'.
The Droid, and other smartphones, do a lot. Many of the functions like downloading email, updating social networking feeds, or staying connected with instant messaging, require constant live connections to the Internet. Even when the device appears to be 'standing by' it is really doing a number of things behind the scenes.
Until battery technology changes to double or triple capacity, you will have to change your charging habits to fit the needs of the smartphone. Instead of charging it every few days, or only charging it overnight, you need to charge the phone basically whenever it isn't being used. Driving in your car–charge the phone. Sitting at your desk–charge the phone. Sleeping at night–charge the phone.
Tony Bradley is an information security and unified communications expert with more than a decade of enterprise IT experience. He tweets as @PCSecurityNews and provides tips, advice and reviews on information security and unified communications technologies on his site at tonybradley.com .