If you're still thinking about stepping to Windows 7, but are appalled by the usual pricing, you might want to check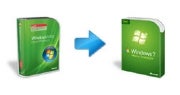 out some special deals now available from Microsoft and some of its retail partners. Each of these offers comes with some catches, though.
I first spotted a mention of Windows 7 discounts in Kim Komando's CyberSpeak column in USA Today. ZDNet's Ed Bott dives down into a lot of details.
In one deal, the Windows 7 Home Premium Upgrade Family Pack, you can get up to 58 percent off if you have two or more PCs at home and want to upgrade them. The package of two DVDs includes one copy each of the 32- and 64-bit Windows Home Premium upgrade installation media, with a single activation key good for activation on up to three PCs. Pricing is $149.99 from The Microsoft Store, but you might be able to buy the pack for less elsewhere online.
In another offer, when you buy a new PC running Windows 7, you can get a second copy of Windows 7 for use with another PC at a price break of up to 50 percent. In addition to The Microsoft Store, participating retailers include Tiger Direct, Newegg.com, Staples, Office Depot, Best Buy, Radio Shack, Amazon, Walmart, Office Depot, Costco, and Buy.com.
A third deal, known as the Anytime Upgrade, is for someone who already has a Windows 7 PC, but wants to upgrade to another edition of the new OS, With the Anytime Upgrade, you can move from the Windows 7 Home Premium Edition to Win 7 Professional for $89.95 direct from Microsoft. In comparison, a Windows 7 Professional retail upgrade would cost you $199.99, for example.
But what if you have a single older PC and you want to upgrade it to Windows 7? As reported in Computerworld, you can buy an OEM or "system builder" edition of Windows 7 for slightly less than Microsoft's upgrade edition through an online retailer such as Tiger Direct or Newegg. You'll get a full license with the OEM edition, but with several stipulations. The OEM edition comes without customer support, it can only be used for a clean install, and the license bans users from transferring the OS from one PC to another.